Lewis & Clark
Friday 30 June 2006, 9:43 pm
---
Friday, June 30
Today Mary is getting a cold. It's probably the same cold I've already had for several days. Fortunately I'm starting to feel better, so I can do the driving. I want to visit Great Falls because it is the Great Falls of the Missouri River, where Lewis and Clark took almost a month to portage 18 miles around five waterfalls. We've been getting a lot of Lewis and Clark on our trip, starting with the Expansion Memorial (arch) in St. Louis, and continuing through the museums in Washington and elsewhere. We heard about these Great Falls before and I wanted to see them.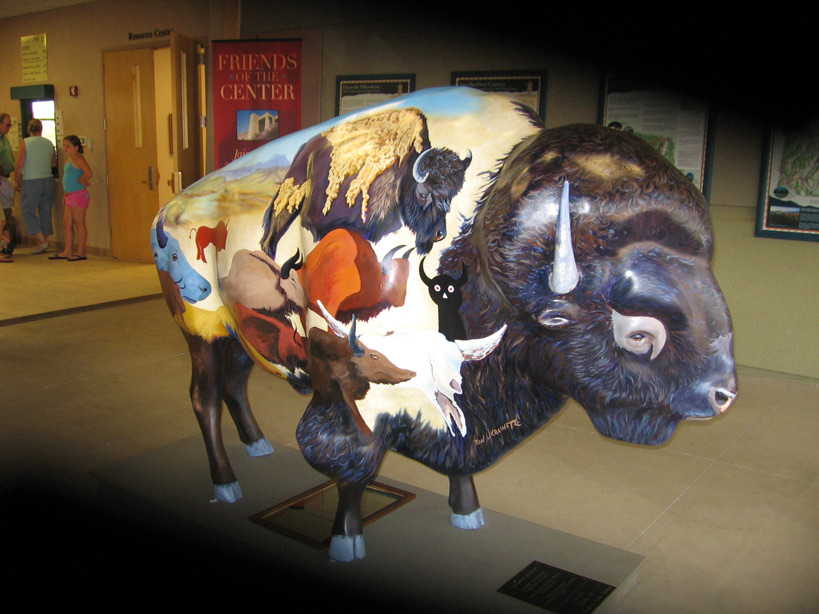 In the city of Great Falls, we found the
Lewis & Clark National Interpretive Center,
yet another museum devoted to their trip. Mary braved it for most of the day despite not feeling well, just because it is so well done. The volunteers there were very helpful, and they drew us maps to the actual falls, and also to the path L&C took over the Bitterroot range.
The largest falls are about ten miles out of town, and I found them a little disappointing. First of all, there is a dam, built either in 1913 or 1930 ... I didn't quite understand. Also, they are apparently much more impressive earlier in the Spring, with the as the snow melts. But there is a nice island there in the middle of the river downstream from the falls, and Mary took a few photos.
We drove up to Shelby, Montana, about 70 miles from the east entrance to Glacier National Park.