The Elusive Moose
Wednesday 21 June 2006, 11:43 pm
---
Wednesday, June 21
Today was factory tour day. We started with the Ben & Jerry's factory in Waterbury, Vermont. It looks just a B&J scoop shop, but more so ... more signs, bigger signs, lots of posters, brightly colored buildings. The tour costs only $3, so the price is right, and even though the tour is short, it is interesting. It includes a humorous movie that talks about the history of the company, and the founder's current social-improvement activities. The tour itself is really just one room, but you do get to see a lot, and the whole process and the big machines are fascinating. We were told not to take any pictures so as not to let out any trade secrets! As if we weren't spies from the evil HD empire anyway ... he he. So you expect that after seeing this, I'm now ready to duplicate the process at home! Fat chance. Speaking of which, my favorite hat in their store says "Body by Ben & Jerry's," and I resemble that remark, which coincidentally we heard again later in the day.
If you go, don't miss the "flavor graveyard," where all the discontinued flavors have gravestones and poetic epitaphs.
Back to Burlington and a little beyond, we found little Shelburne and the Vermont Teddy Bear Factory. This is the place where you can call and order a custom teddy bear with custom clothing. You can also grab a teddy bear "skin" and fill it yourself ... in person only, not via the mail. The tour is again just one large room, and very tongue-in-cheek. At one point he showed what happens if you overstuff the bear ... body by Ben & Jerry's. Twice in one day. Anyway, the way they construct these things is pretty clever, and the way they cut the fur into pieces is impressive ... a huge Sizzix-like stamping machine that can cut out dozens of bears in one cut, through eight layers of material.
We got a bear for Mary's mom, who has been in the hospital. The bear is shipped UPS via in a brightly-colored box that includes an air hole so the bear can breathe, some candy so the bear has something to eat on the trip, and the inside of the box is printed with board games in case the bear gets bored while in transit. We got the "hero bear;" when you buy that one, another gets sent to an organization that hands out bears to kids who are going though disasters. (Mary's mom got the bear on Thursday and she loved it.)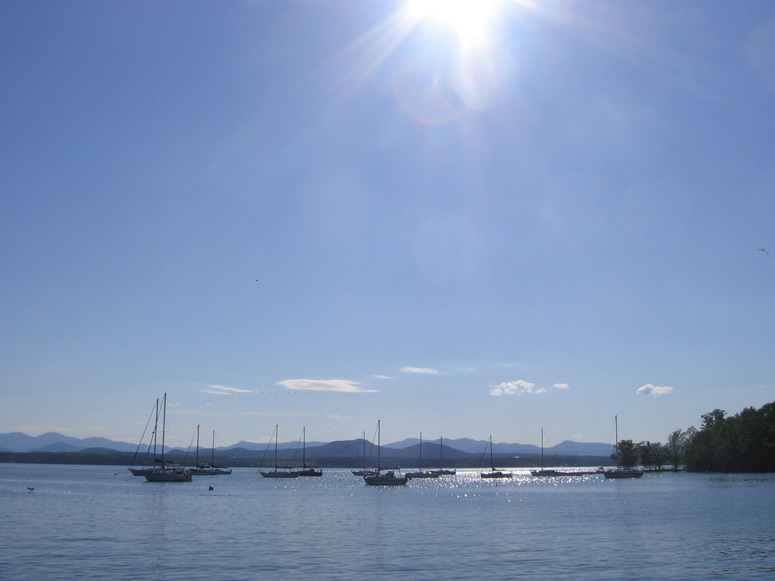 We took a relaxing ferry across the lake into New York. The ferry driver suggested we go to Lake Placid, where some Winter Olympics were held. He even gave us a map, but I got lost anyway. Well, not exactly lost, but we went the wrong way, a longer way, but we got there eventually. A tourist trap town but not much activity. Down the road past another lake we found a grocery store to get some meat, and we found a nice room with a rustic theme and a photo of a moose in the stairway.
We have been looking
everywhere
for moose, even asking for suggestions on where to look, and praying to see one. But not a glimpse yet. One guy in the teddy bear factory said a moose wandered into his back yard some time back, but he's only seen two in his life, both years ago. I guess the trick is having both patience and time; we're short on both. We did buy a stuffed moose in Maine for a gift. Who wants a stuffed moose for Christmas?
(On Thursday, as I'm writing this, we saw a store called the Elusive Moose, which summed it all up.)