The Maine Thing
Tuesday 20 June 2006, 11:36 pm
---
Tuesday, June 20
We are in Maine, but by tonight we want to get to the Ben & Jerry's factory in Vermont. Vermont and New Hampshire are not large, but Maine is larger than you might expect. We have a fair amount of driving to do.
First, we went to the beach at Fort Popham on the Maine coast. They wanted to charge us $8 to get into Popham Point State Beach, so we opted for the fort instead, since it is free. All we want to do is dip our toes in the Atlantic Ocean, so we can truly say this is a "coast-to-coast" trip. The water was cold, but the beach was nice. Lots of little kids playing on the beach and in this dark stone fort. The parents suggested we bring flashlights "next time."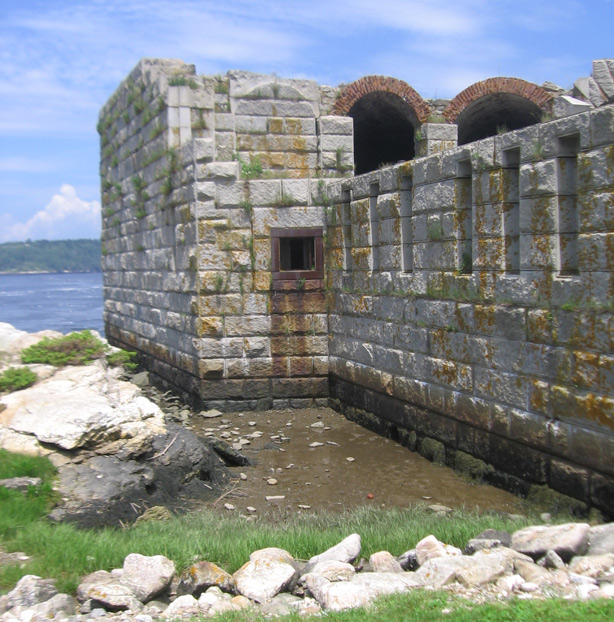 Of course, we didn't make it through the town of Bath without Mary wanting to go shopping in the cute boutiques there. I found us a couple of Maine lobster baseball caps - mine blue, hers pink.
We drove north on 201 to Showhegan, then headed west on highway 2, which will take us all the way to Montpelier. It took hours to make this back-roads drive, but it was beautiful. Mary did some of the driving through one section where it rained a lot and there were storm warnings on the radio, but that lasted only about an hour. We got to Waterbury after dark, only to find that there is only one hotel in town, and only the VIP room is available. Beyond our budget, but tempting. There are lots of B and B's but it's a bit late to come in without a reservation. We found a nice room near Burlington, about 25 miles further up the road. We'll have to backtrack tomorrow but we saved a lot of $$$ staying farther away.