Brooklyn Bridge
Saturday 17 June 2006, 6:43 am
---
Friday June 16: Brooklyn Bridge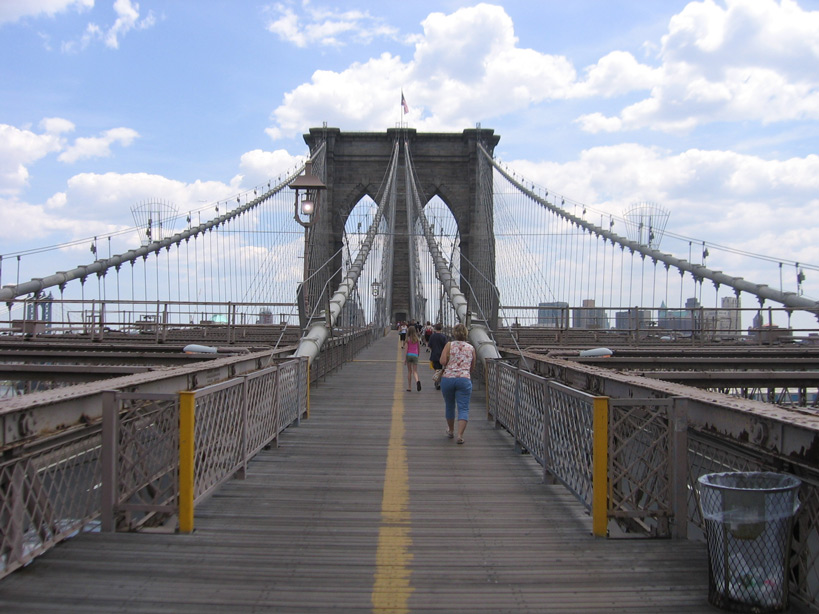 Today Steve and Sydelle dropped us off at the Brooklyn Bridge so we could walk across into Manhattan. I've always wanted to walk across the Brooklyn Bridge. I don't remember why! Maybe I read one of those travel articles in the AAA magazine. Anyway, it's free to walk across the bridge. It takes about 30 minutes, so we really wanted to go only one way, and walking into Manhattan lets you see the Manhattan skyline as you approach.
The bridge is about 6000 feet long. I don't know whether that includes the approaches or not. It was an excellent day for walking across. The weather was sunny but not too hot ... but not windy either. I was afraid it might be too cold, like when you walk across the Golden Gate bridge. But it was definitely comfortable. The walkway is above the traffic, in the middle, unlike most other bridges where the walking lanes are along the sides of the bridge. There are two beautiful towers with two gothic arches each, one for each lane of traffic? Anyway, as you walk over, near the towers there are plaques that commemorate and describe the construction of the bridge. It was like being in a museum, which is good because there is also a Brooklyn Bridge Museum but we forgot to go there.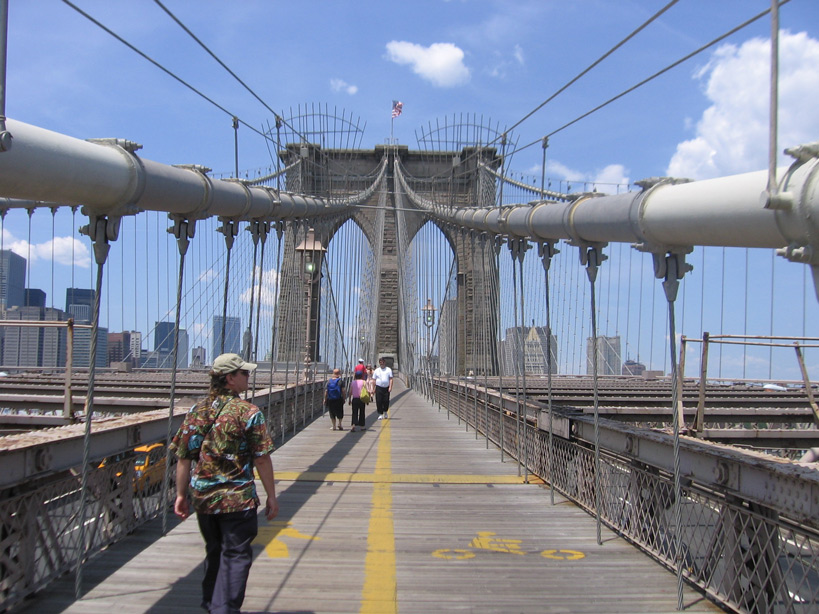 When we came off the bridge at the other end, we found ourselves near City Hall Park and I knew there was something nearby ... yes, J&R, the one found in the back of your computer, music, and photo magazines. It takes up almost a full city block and it is divided into several older buildings, so it doesn't look like a computer store and it's not easy to see if you don't know where to look. They did not have anything we needed, and their prices were not any better than we could find at home anyway.
World Trade Center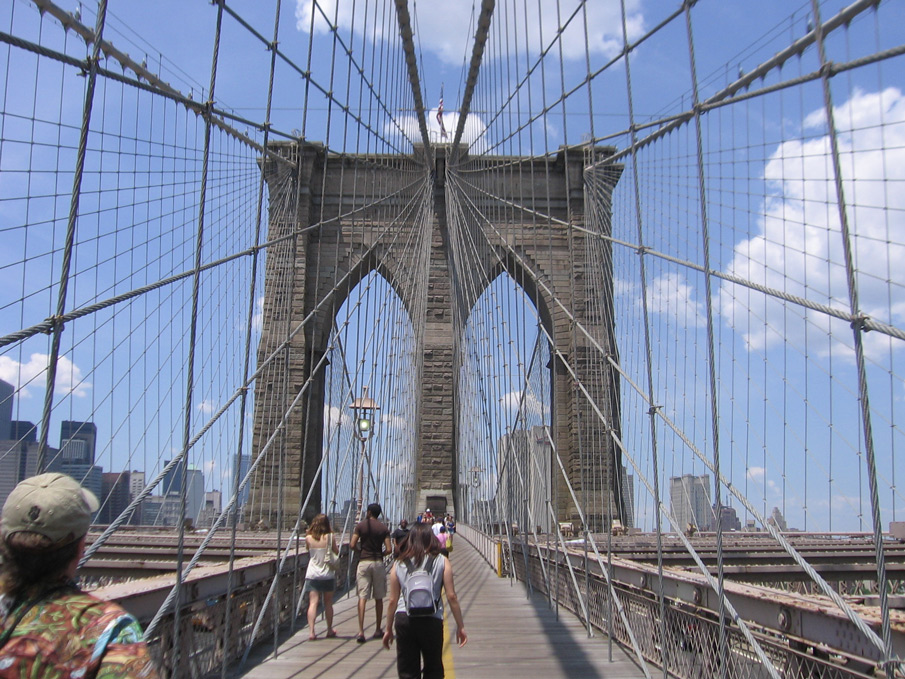 We bought a couple baseball hats for presents, and the cart-keeper spoke English (!) and he gave us directions to the World Trade Center site only a couple of blocks away. At the WTC site there is sort of an observation deck where you can overlook each of the holes. They aren't really holes, like deep in the ground or anything, just holes in the sense that there are no buildings there. It looks like they are just cleaning up in order to build other stuff there, and if you didn't know any better you'd never know that anything extraordinary had ever happened there.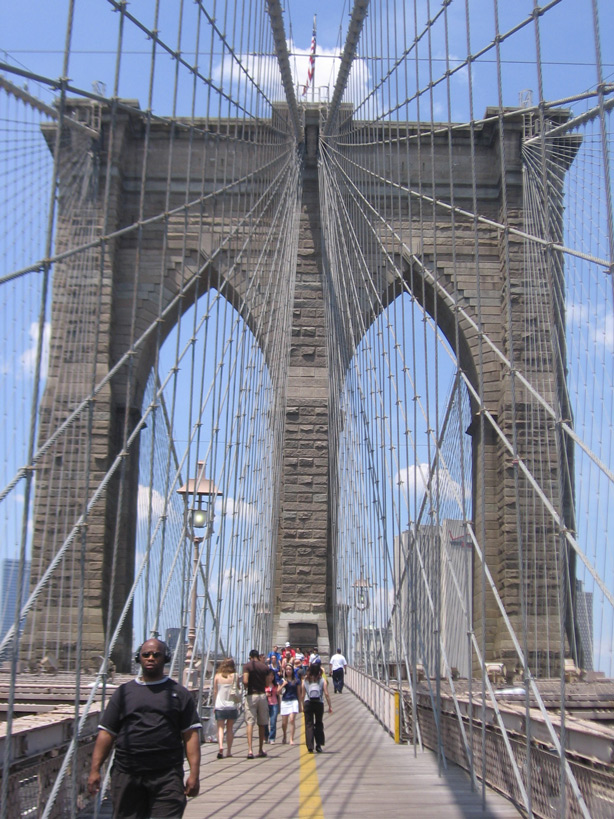 There is a kiosk that describes several different projects that will be built here. It looked to me like they were alternative projects and the choice had not been made yet. Mary understood that they would build all the projects here in different places or on different levels. So I'm really not sure. One project is a beautiful tower that starts out square on ground level but assumes an octagonal cross-section as it gets higher; it is supposed to be at least as tall as the original towers were. A second project is a transportation hub that includes a structure that looks like the guy wires for a suspension bridge, but I don't think there is any bridge there. Note that there are already several subway stations underneath the site, and all except one of them are currently operating. The intention is to add terminals for other transportation systems, notably PATH (Port Authority Trans Hudson, which operates ferries). I think the third project was some kind of park, pool, or fountain that would serve as a memorial.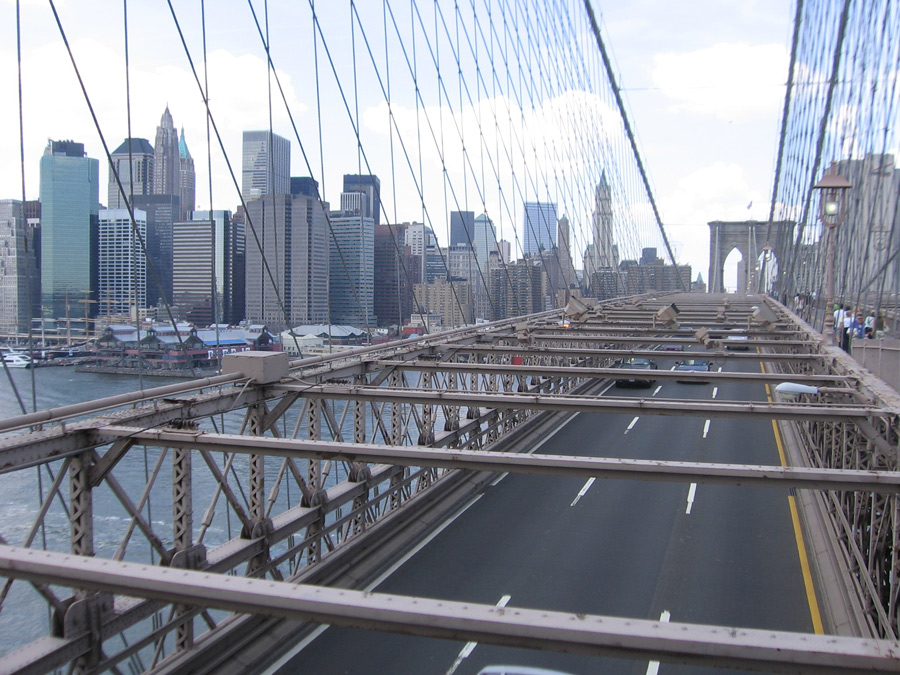 Down some stairs, on the way to the subway station, there is artwork that appears to have been drawn by children of the people who lost their lives here ... many tributes to "daddy" ... and they were moving.
MoMA
We were able to catch a subway right here heading uptown, where we got off to see the Museum of Modern Art. We had tickets to see it free, but many of the museums are open late on Fridays and they are free after 4:00 pm anyway. Actually, we also had tickets for the Natural History Museum and the Guggenheim. We solicited suggestions and everyone said Natural History was the best, but we saw Natural History in Washington and we were burned out on that. Of the two remaining, most thought the MoMA was better. So that's where we headed.
MoMA has many of the modern classics ... Andy Warhol's Campbell soup cans, Salvador Dali's melting clocks, Monet's reflections of clouds in a lily pond, Van Gogh's "Starry Night," Picasso's woman's reflection in a mirror. (Sorry, I don't remember the real names of the works.) There was also the guy who draws the blocks, but I don't remember his name. There was a room devoted to him, and if you go through his stuff in chronological order you see how he arrives at the masterpiece that looks like a map of the New York subway system. And they also had several by the other guy, I also don't remember his name right now, but he threw or dripped the paint onto his canvas. The whole concept makes a lot of sense when you hear it described. It also helped on a lot of these works to listen to the audio tracks targeted at children. They explain the works in a way that anyone can understand.
After the museums close, if you don't want to see a Broadway show, go to a bar, or spend all evening in an expensive restaurant, I hate to say it but there is not much to do in New York except people watch, shop, and go to a rock 'n 'roll concert. We found ourselves in the Burger Joint again since was not too far from MoMA and we were hungry. Other patrons there told us about a jazz concert at Carnegie Hall, and it's probably not sold out, but when we walked around the corner we found that they will not let us in without advance tickets ... the box office is closed. Does that make any sense? To turn paying customers away when the show is not sold out? One subway stop away, nothing going on at Radio City Music Hall either. This is a Friday night! What are we supposed to do? We head back to Brooklyn to get some shut-eye. We will be leaving NYC tomorrow.