Statue of Liberty
Tuesday 13 June 2006, 9:51 pm
---
Tuesday June 13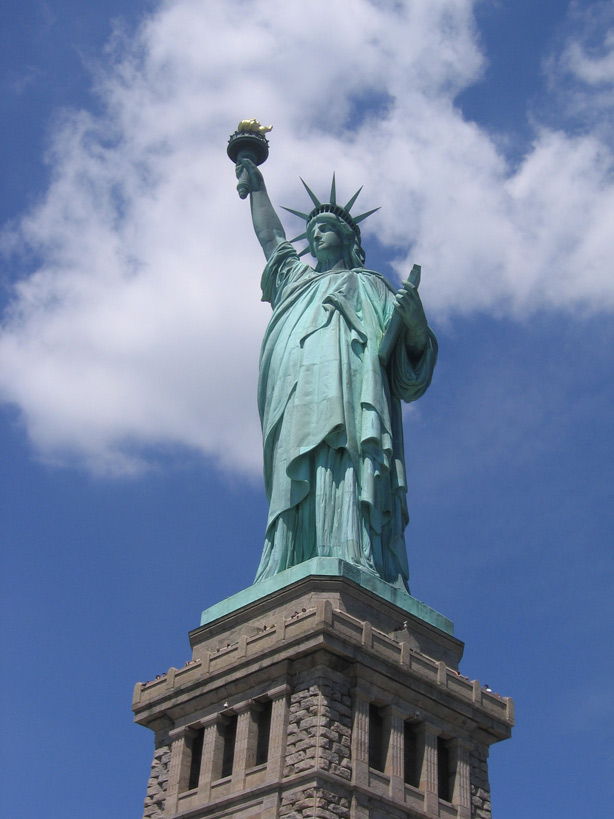 We had to get up very early to see the Statue of Liberty. We called on Monday, and we were told about the ticket situation. Anyone can take the ferry to Liberty Island and Ellis Island if they pay the fare. But you need a special free "timed ticket" to get inside the Statue of Liberty. This is similar to the situation at the Washington Monument and the US Capitol building, so we were familiar with the routine. Anyway, we were told the doors would open at 8:30 am and we should be there possibly as early as 7:30 am. In order to be there are 7:30 am, we'd need to catch the subway at 7:00 am, catch the train at 6:00 am, leave the hotel at 5:30 am, and get up at 5:00 am.
This must have been our earliest day yet. But everything timed out very well, and we were in line by 7:30 to 7:45. There were only a dozen people in line ahead of us, so we weren't worried. But a lot of people had reserved tickets ahead of time. I don't know how they did that, because the NPS web page would not let me do that. But apparently there is an 800 number you can call to reserve the tickets, and I had missed that. Anyway, the whole procedure was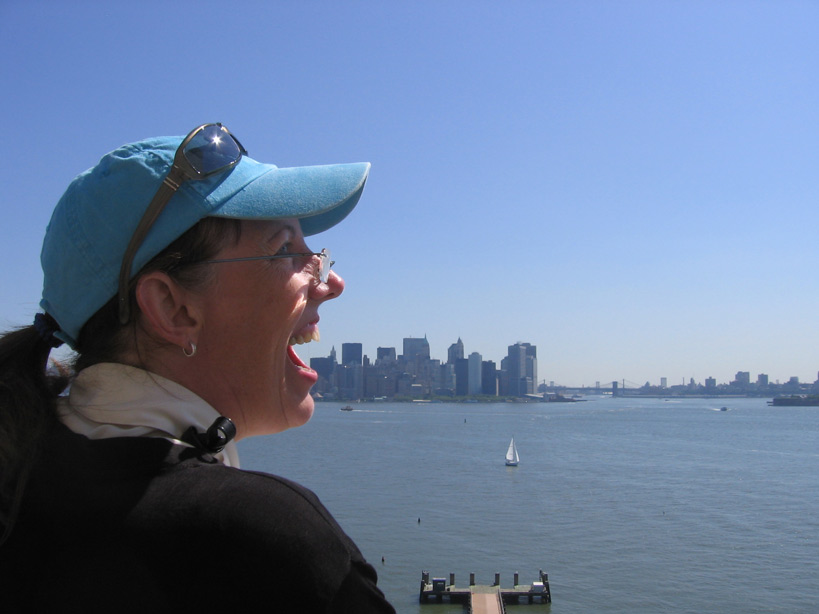 painless for us but not for others. We just walked up to the window and asked for a timed ticket, and we had ferry tickets and "inside tour" tickets for the first time block this morning. But another family who was actually in line ahead of us came back empty-handed because they went to a different ticket window. I don't understand that at all! Worse yet, this family had come down early three times and never got a tour ticket.
The construction of the SOL is fascinating, but the inside tour didn't really allow you to see that much of it. In the past, you could actually go inside the SOL up to the crown, but now you can just go up to the top of the pedestal. The view from there is much better than the view from below. But I had hoped to see more of the inside of the statue.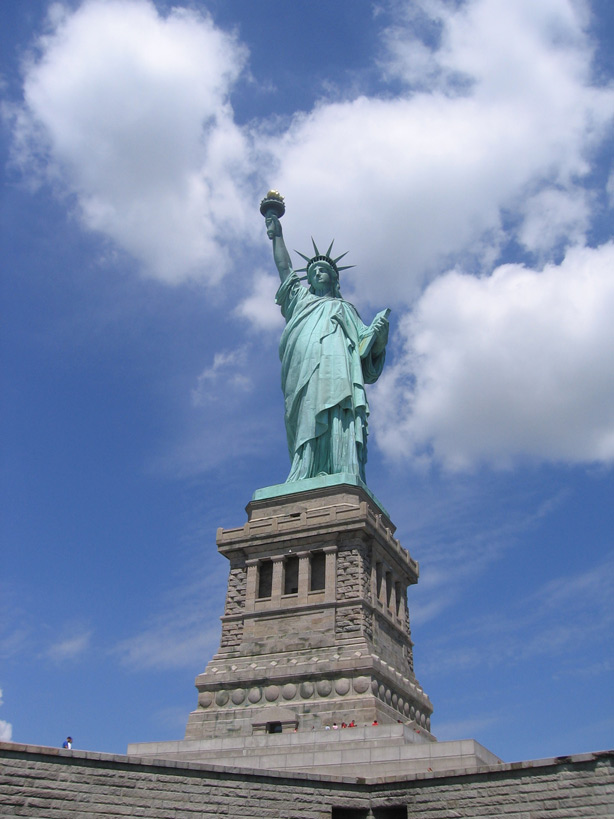 Ellis Island was overwhelming. We got an audio tour, saw a play, and saw a movie. After all that, we didn't really have the energy to tour the insides of all the buildings. So we got in a long line to head back to Manhattan; it was so long we had to wait for the second ferry. The ferry service should anticipate that outbound trips would be busy in the morning, inbound trips busy in the afternoon, and adjust schedules accordingly; but they did not.
Back in Manhattan, we were able to see the Fire Department Museum on Spring Street, which was recommended by Monica Bellizi of Holy Cross Lutheran Church. They do have an excellent 9/11 memorial that includes a tile structure with one tile for every lost firefighter, with his photograph on the tile.
Meanwhile, I was getting a small headache. All that time in the sun on the islands and ferries had got me dehydrated. Pretty soon we were in a restaurant but I couldn't eat. Eventually I got sick in their restroom, but they were gracious about it. We took our meals "to go" and when I felt better a few hours later in the hotel room, their meal of spanish rice with sausage, chicken, scallops, and clams tasted wonderful. Having learned my lesson, tomorrow I will take an extra bottle of water into town in case we can't find any.