In the city of brotherly religious freedom
Friday 9 June 2006, 9:00 pm
---
Friday, June 9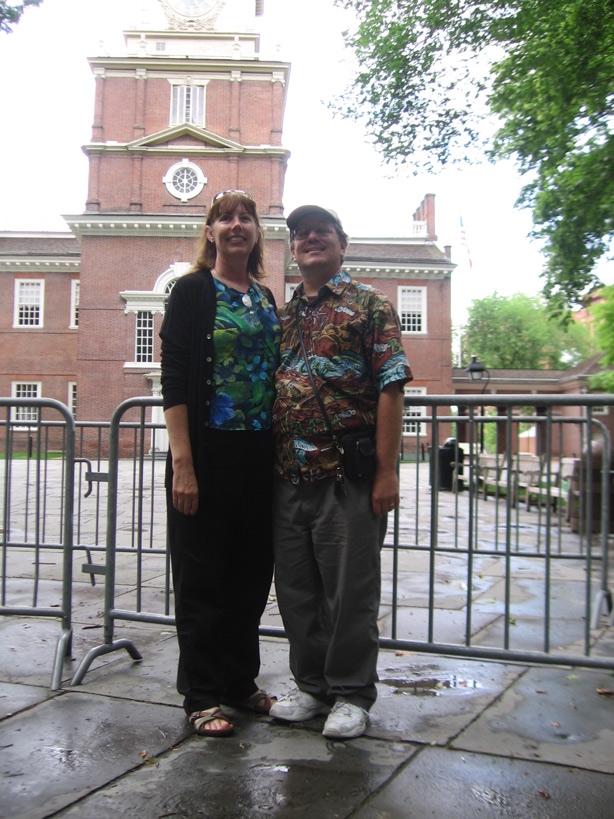 Today was a great day. We made a few wrong turns again in the morning, including at least two that took us over bridges into New Jersey, each requiring that we pay a toll to return to Pennsylvania ... but eventually we got wrong-turn-itis out of our system.
In Philadelphia, we were able to see the Liberty Bell, Independence Hall, the first US Capitol, two different Quaker houses, Benjamin Franklin's grave, a memorial to the unknown soldiers of the revolutionary war, and probably a few other things that I don't remember right now.
Philadelphia advertises a four-by-five-block stretch of downtown as "America's most historic mile," and it certainly is.
We learned a lot about William Penn, his ideal of religious tolerance, and his contributions to the Pennsylvania constitution, which formed the basis for our own Bill of Rights. We learned most of this not in Independence Park, but in one of the Quaker houses, which had a very friendly guide that we caught at a quite time. He is a member of a Quaker meeting in New Jersey, and he explained to us a bit about the Quaker meetings and the beliefs of the various different Quaker groups.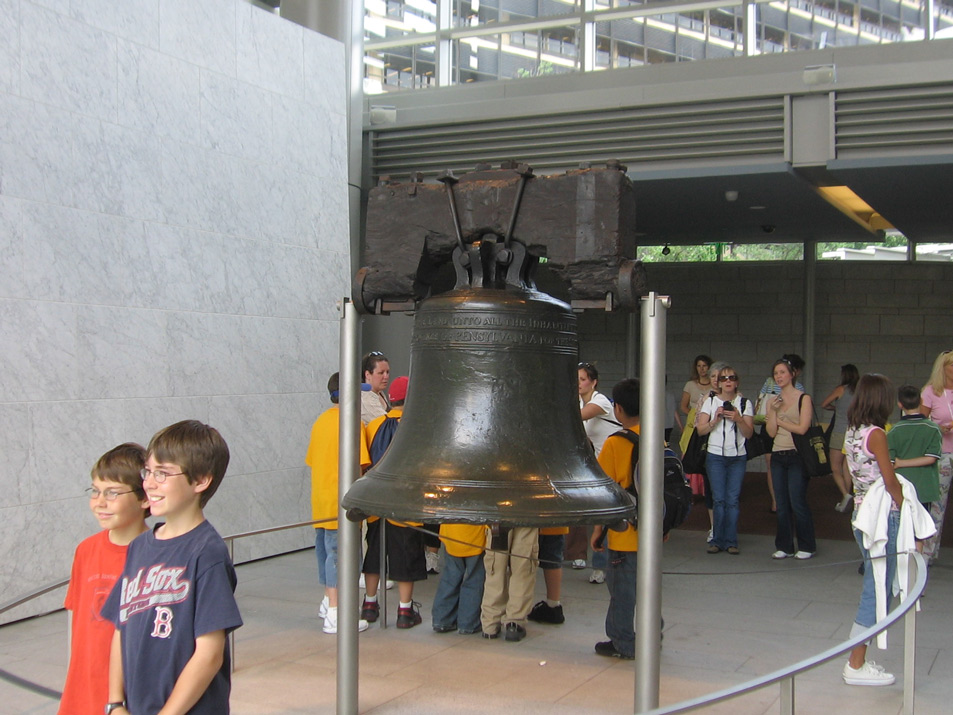 Everything here is well worth seeing. The Liberty Bell is the real one, not a replica. Being really just a very old bell with a big crack in it, it was a bit ugly despite its historical significance.
At both the first US Capitol and Independence Hall, we were fortunate enough to get the same very enthusiastic guide. Learning about these buildings would have been a very different experience without a guide or with a different guide.
After everything here closed at 6:00 pm, we got the car out of hock and cruised on down to Rittenhouse Square. Parking is expensive in Philadelphia! It cost us $16 to park near Independence Hall for six hours, then another $14 to park near Rittenhouse Square for just two hours to eat dinner. Traffic was pretty bad getting to the Square during 6 pm rush hour, but not so bad when we left there at 8 pm.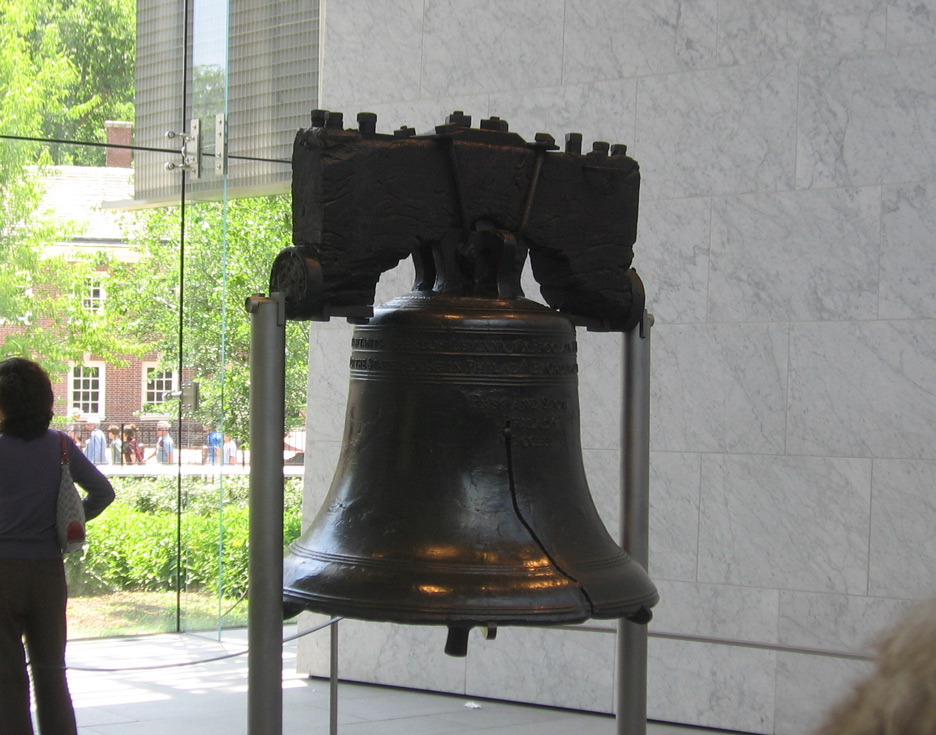 We ate at
Rouge
on 18th, just across from the Square. Their "Rouge Burger" was considered one of the "20 hamburgers you must eat before you die" by GQ magazine. We both had ours bunless, since we are allergic to wheat gluten. The burger itself must be a half pound, and it's not flat, but almost more like meat ball shape because it's so tall. Our medium requests came out mildly crunchy on the outside while pink in the very center. They come with carmelized onions and gruyere cheese, plus lettuce, tomato and pickle if you want them. They also come with "pommes frites" which is I guess how they say "french fries" in Philadelphia's French Quarter. We had a side order of grilled asparagus that seemed barely warmed, but was very tasty. To top it all off, they had two different flavors of our favorite dessert, creme brule, and a flourless chocolate cake to boot. But the cook suggested the flourless cake might still have a trace of flour from the baking process, where it is used to remove the cake from the pan. We did try both the vanilla and the chocolate creme brules. I let Mary have most of the chocolate one, although it was the better of the two, because it was so rich.
We will be on the lookout for more "burgers to die for" as we get into New Jersey and New York, where there are four more.
Tonight we've ended up in the middle of New Jersey near Princeton, because I ran out of steam. We hope to get into NYC tomorrow, but we still don't even know yet where to catch the train or where we can park the truck safely.