Escape from Washington
Thursday 8 June 2006, 11:36 pm
---
Thursday, June 8
And now for something completely different. We have been walking around in Washington for four full days. Mary's feet are killing her. I decided we can try something else today.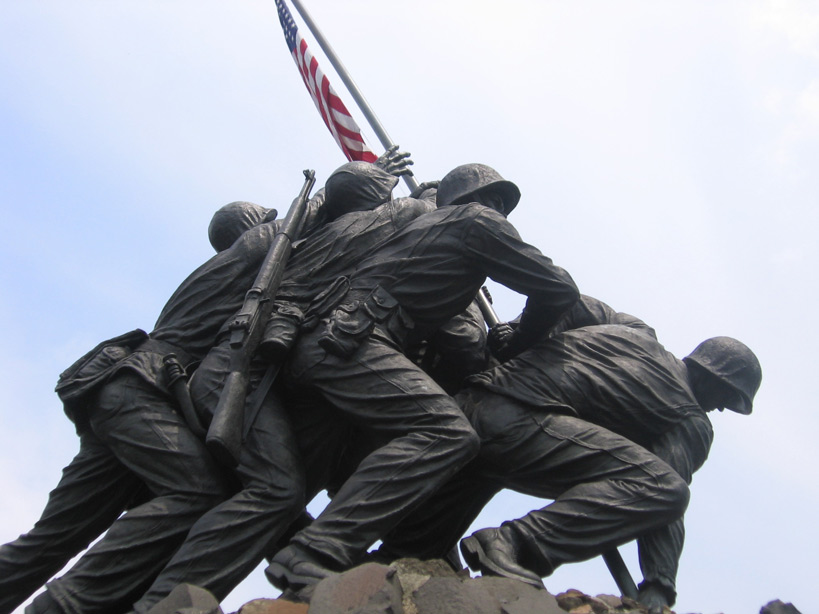 We started by going to the Marine Veteran's Memorial, also known as the Iwo Jima Memorial. We were almost there when we took one wrong turn, and we ended up going many miles out of our way before we found our way back. Today was definitely our day for making wrong turns. Eventually we got there and after the busload of kids left, we were left alone with the ranger, who was a volunteer and a Marine veteran of Lebanon 1958, Vietnam, and the Dominican Republic. We learned a lot about the memorial and the crowds from him.
Next, we saw the Teddy Roosevelt Memorial. In fashion true to his reputation as a conservationist, his memorial is on an island without roads, accessible only via a footbridge. The island is peaceful except when the planes land at nearby Reagan National Airport just across the river; this happens only about every five minutes or so. Grrr.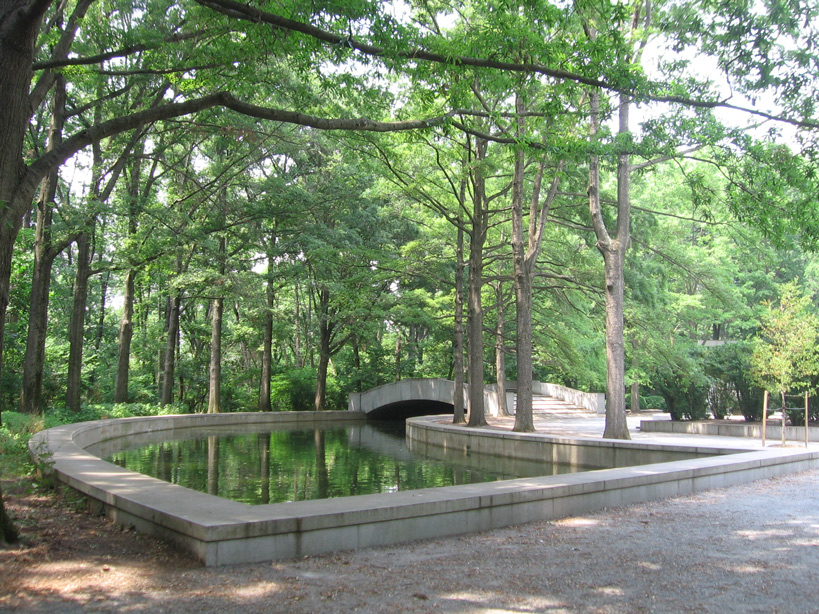 Next came the most comedic stretch of wrong turns in our whole trip. I wanted to go across one of the 14th street bridges to the Jefferson Memorial. We went back and forth past the Pentagon on one freeway, then another, then surface streets, then into the back lot of a business, then into a dead end, then back up the GW Parkway
ten miles into another county
before we found a place to turn around, then back past the Pentagon
again
, without ever being in the right lane to exit onto any bridge at all. Finally, we ended up on the Key Bridge at 4:30 pm, which is really crazy. Key Bridge is the one
farthest
from where we wanted to be, it was rush hour, and we were heading right into downtown. We eventually made it down to the Lincoln Memorial and I tried to go around it, but confound it, that road goes back across the river and pretty soon we were back across where we started, near Arlington Cemetery again. We found another circle where we could turn around and come right back across the bridge to the Lincoln Memorial. Then we found the back road down the island where the Jefferson Memorial is. It was worth going "out of the way" to get too; even Mary agreed. It is a beautiful building with a rounded dome that looks like a bald head; no spire on top like the Capitol has.
OK; we've had it. We have been in Washington six days and we have barely made it halfway through two Smithsonian museums; we could stay here another week and not get through it all. At some point you've got to take up stakes and get moving. Only problem was, we're not done making wrong turns yet. I wanted to take the Anacostia Freeway out of town to the east, but going over the river I took a wrong turn, and we ended up in Anacostia Park instead of the freeway. We had to ride along the shoreline for quite a while before we found our way back to the freeway. I have been lost in Anacostia before, at night in the dark, and I was very afraid. Anacostia is a neighborhood across the Anacostia River from downtown, and it is a slum. I figured we'd be safe in the daylight, in the park, but I wanted to find my way out quickly.
As we headed up through Baltimore, we found a few sections of road that required tolls. We temporarily mislaid the small change jar, we've spent all our bills except
one dollar,
and we don't have enough in the car to pay the next toll. We found an exit just shy of the next toll and we found an ATM.
As we passed Baltimore, the weather started turning bad. Eventually the rain got to the point that I could not see very well. We got off in a place called Havre de Grace or something like that, to slurp a chocolate shake at McDonald's and wait out the storm. In 20 minutes, the storm let up a little and we left armed with directions from the locals how to get into Delaware paying the least possible in tolls.
Eventually we made our way to the north side of Philadelphia, where we will visit downtown tomorrow.