Memorial Day
Sunday 4 June 2006, 9:33 pm
---
Sunday, June 4
Today we went to church at
Calvary Chapel DC Metro,
which is not actually in DC but in Falls Church, Virginia. The church service was wonderful. They had a guest speaker from New Jersey and he spoke very well. He spoke out of 2 Peter 1 about the progression from faith to virtue, knowledge, self-control, endurance, godliness, brotherly love, and agape love. He gave good examples of each.
The church had a group of guests from an orphanage in Haiti. They sang for us and it was beautiful.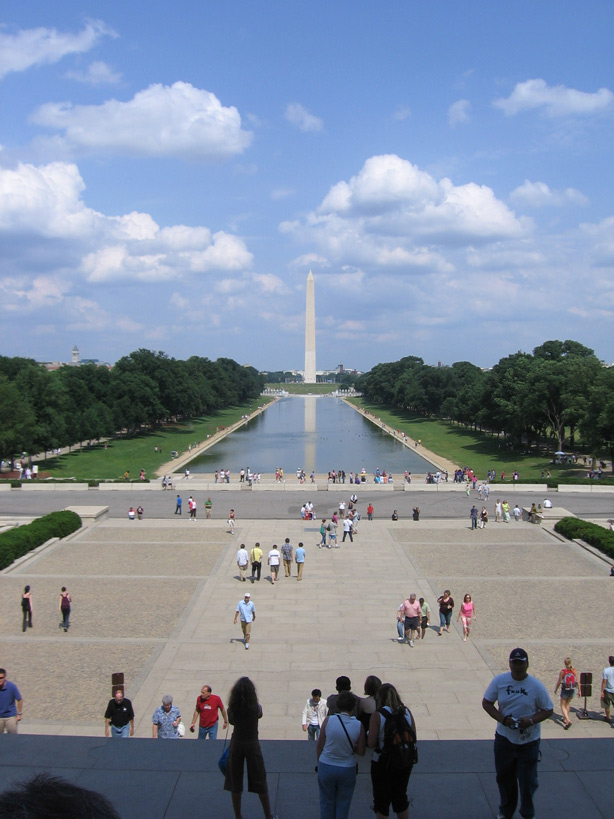 We parked in the Metro station right next to the church and we went into DC. We saw the Washington Monument, the the World War II memorial, the Vietnam Veterans memorial, the Lincoln memorial, and the Korean War Veterans memorial. Then we went to the US Holocaust Memorial Museum, but we didn't see much.
Each memorial has its own unique qualities. We both thought the World War II memorial had the most compelling design. It has a central fountain surrounded by pillars. There is a pillar for each state, and each pillar has a green-copper wreath. The pillars present each state in chronological order, but they alternate sides of the circle, so that, for example, Delaware (the first state) and Alaska (the 49th state) are on one side of the fountain, while Pennsylvania (the second state) and Hawaii (the 50th state) are on the other side of the circle. There is also a small "waterfall" from the large reflecting pool into a smaller pool on the edge of the monument.
The Washington Monument has elevators that take you to the top, but you need to get tickets early in the day. Mary and I are not morning people, and we were disappointed. It will take some effort for us to get up early, but we hope to make it happen one day while we are here.
We went into the US Holocaust Memorial Museum, but again, you must get tickets early in the day in order to see the bulk of the exhibits.
We were hungry at the end of the day but we couldn't find any food. Probably because it's Sunday after hours. We finally found a Hard Rock Cafe near 12th and E, and Mary said although she's never been to one, she knows we can find good food there. Well, it turns out almost everything they make has gluten in it. Every salad dressing, every sauce, BBQ sauce, baked potatoes, even the vegetables have a seasoning that has gluten. The manager was very helpful. We ended up with bacon cheeseburgers and huge salads without dressing. Unfortunately, this meant we totally missed out on the Hard Rock Cafe "experience" (except for watching the videos on the wall). But the food was good and we were hungry.