Sixteen Tons
Sunday 28 May 2006, 9:48 pm
---
Sunday, May 28
This morning we went to church at
Calvary Chapel Beckley
in Beckley, West Virginia. I counted only about 14 people in the church including us. I didn't see any kids, but they may have been off in another room. We met the pastor, Ed, his assistant, Gary, and several ladies, including Cindy, who gave us lots of advice about things to see in the area.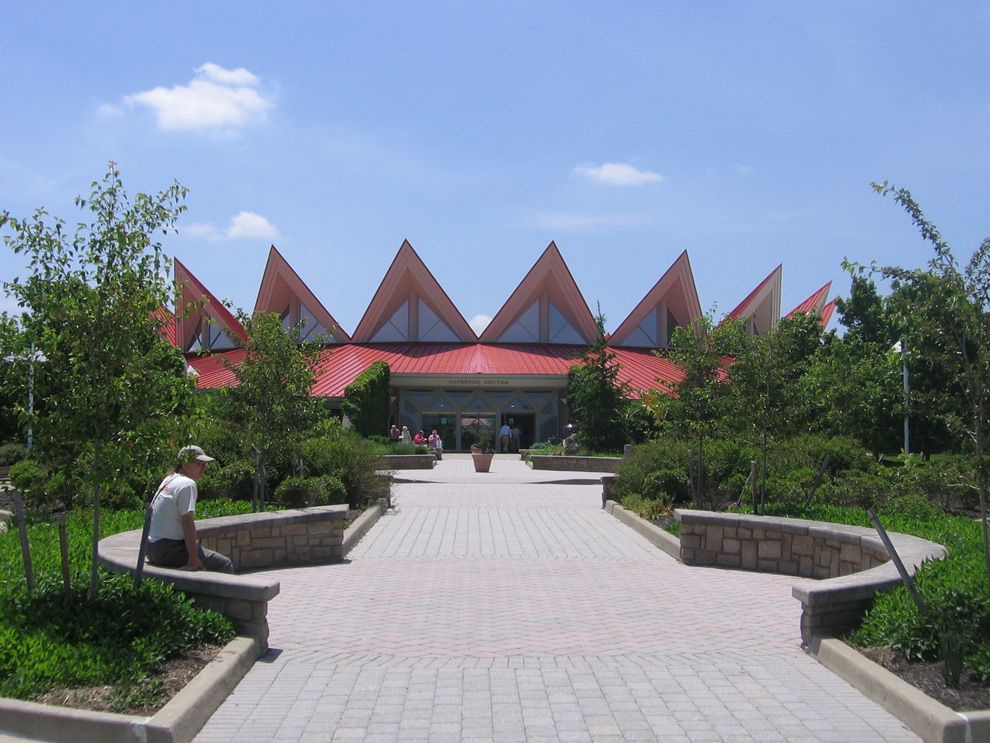 After lunch, we visited
Tamarack,
a gift shop, conference center, restaurant, and theater that showcases handmade West Virginia art. We saw lots of wood, glass, quilts, paintings, and photographs. We didn't buy anything. We were glad we'd eaten elsewhere, because although the food looked wonderful, all of it violated our food allergies.
The highlight of our visit to Tamarack was a live big band concert. The
Smoot Theater House Band
from Parkersburg was holding a free concert in Tamarack's auditorium. The band consisted of about five each saxes, trombones, and trumpets, plus a small rhythm section. They ranged in age from under 30 to old enough to have played with the Glenn Miller orchestra! They were mostly band instructors and other music teachers from the local school systems. I don't have the flier with me right now, but they played an hour's worth of standards including When I Fall In Love, In The Mood, The Nearness Of You, and One Note Samba. They also played a couple of more modern swing pieces written by big band arrangers. They ended with a "patriotic" medley (which, to our consternation, included both Dixie and Yankee Doodle) and a sing-along of America the Beautiful.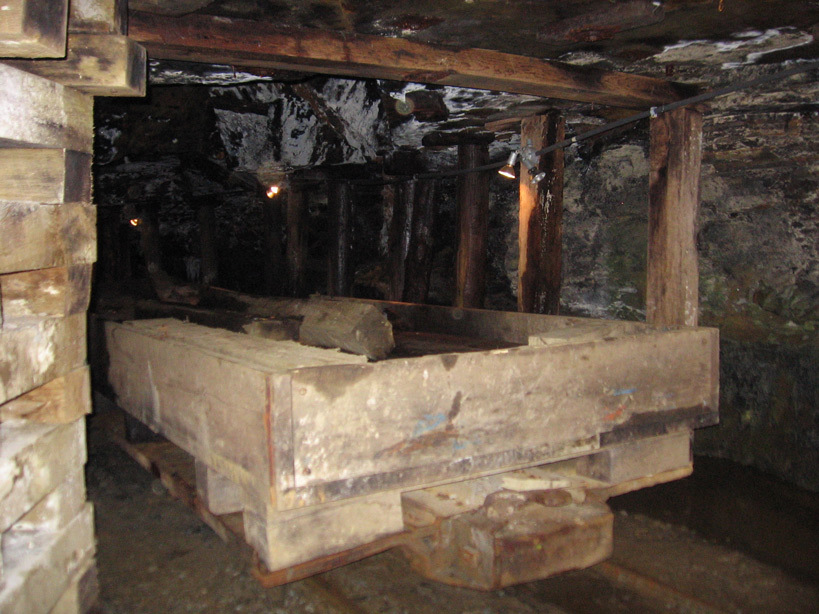 Later in the afternoon, we visited the
Beckley Exhibition Coal Mine.
This is a real mine that was in use until about 100 years ago, and you can ride a real mine car into it. They talk about what kind of light the miners used, and they demonstrate different kinds of candle and fire light. They also talk about how the mining is actually done, and various tools that have been used over the years, from quite primitive ones to more modern ones that look like large chainsaws. In addition to the mine, the site includes real houses, shanties, churches, and other buildings moved here from mining camps around the state.
Early in the evening, we tried to find our way to the New River Gorge, billed as the "grand canyon of the east." We found the New River and a bridge over it, but I think we missed the best of it somehow. We had been advised to visit a place called Grandview, but that was the wrong direction so we tried to see the gorge from a different place. Oh, well. We were very tired and we turned in early at the little town of Burnsville in a very worn-down and overpriced motel. It was a bad night because the A/C did not work and neither of us could sleep.