Holy Smokies
Wednesday 24 May 2006, 12:11 am
---
Tuesday, May, 23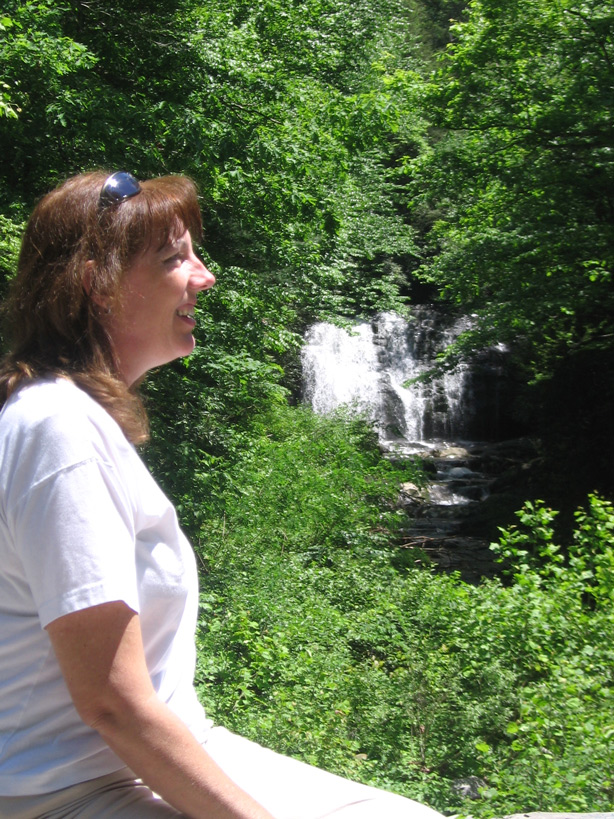 Today we visited the
Great Smoky Mountains National Park.
This park supposedly gets more visitors than any other national park in the system. Perhaps it is close to several populated areas, and perhaps it is because it is free. Can you believe it? Which other national park is free?
The guidebooks indicated that we'd need two days to fully appreciate the park; one day to visit Cades Cove, and one day to go over the divide and see Clingman Dome, the highest point in Tennessee. We hoped to do a little of each and finish it all in one day. This turned out to be a bit of an adventure.
Cades Cove is a beautiful drive that takes you past several small waterfalls very near the roadway. At the end is a scenic loop where you can view houses and churches from the time period 1880-1900. Each of the three churches also has a small cemetery. The cemetery we visited seemed to be in current use, having stones dated as late as 2002. The first church, the Missionary Baptist, had an interesting feature ("graffiti," as one ranger called it) ... you could see handprints in the ceiling. Apparently the ceiling was constructed as one man held up the board while another nailed it into place ... the hands drew out the sap in the wood, and the resulting handprints are still visible today.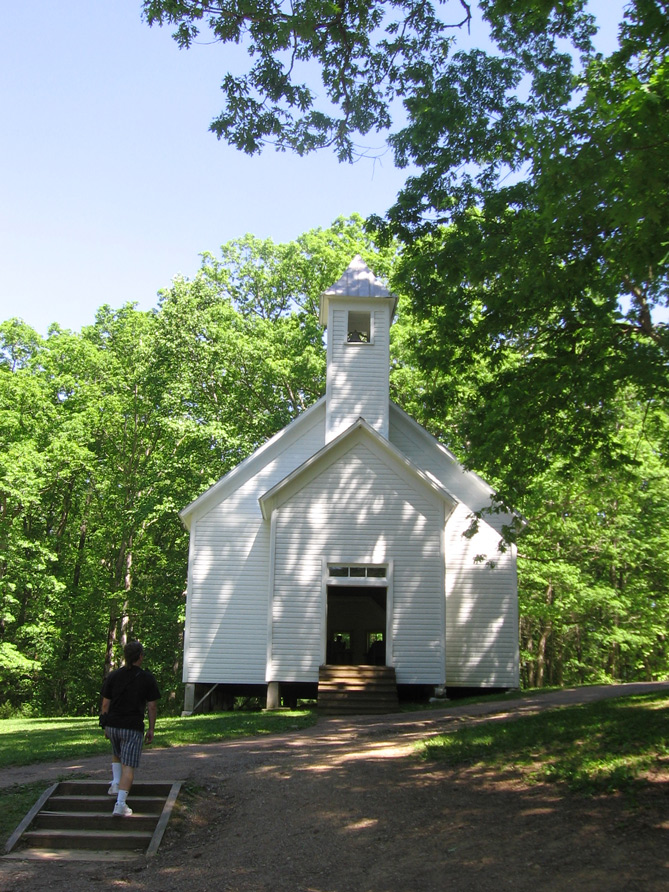 We saw lots of birds and butterflies in Cades Cove, but one "wildlife jam" (a long line of stopped cars) made us get out and investigate. It turns out there was a mama bear and three cubs near a tree. Many people circled around, keeping their distance and taking photographs. Whenever people would get too close, mama bear would chase the babies up the tree for their protection. We got a few photographs, and while blurry, you can distinctly make out the mama bear and one cub in several of the photos. We talked to one gentleman who has lived in the area for several years, and visits the park often, and he has never seen a bear here. Mary told me later that she had prayed a bear sighting opportunity and she was very happy with the form of the answer.
Since the wildlife jam slowed us down and the bear view put us way behind schedule, we were rushing to get out of the Cades Cove area and see Clingman Dome before we lost daylight. When we got to the Clingman Dome parking lot, we found 20 minutes of sunlight left, and a 30-minute hike still ahead of us. They have built a tower at the top of the mountain, and it takes you above the treeline for a less obstructed view. The trail is one-half mile long, gains 300 feet of elevation, suggests and walking time of 30 minutes, warns of altitude related problems, and suggests a slow hike. We walked quite quickly up the hill to make it before sunset, and Mary had some athsma by the time we got to the top. However, we were rewarded with a fantastic sunset that lasted almost an hour from start to finish. We got lots of photos, and lots of beautiful memories.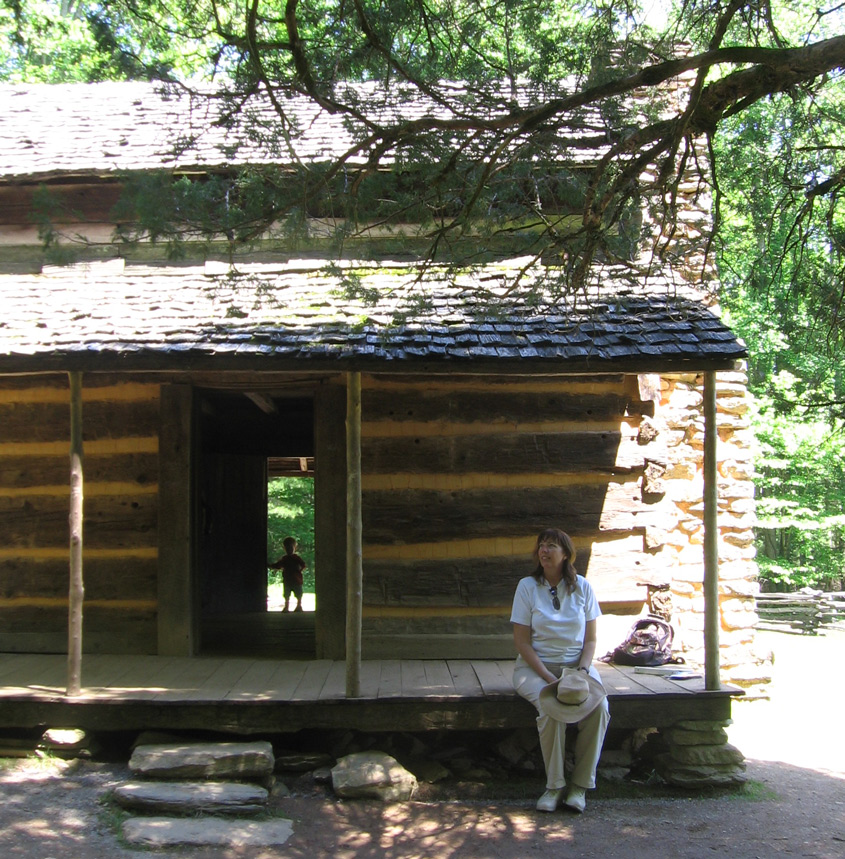 After coming all the way through the park, we stayed in Maggie Valley on the south side of the park (North Carolina).
Not sure if I ever mention that at the St. Louis Zoo we bought a companion for Pahrump, our blue and green lizard. Her name is Lizbeth Louise and she is blue and yellow with some spots. Well, today we found an orange salamander in the GSMNP gift shop. He is pretty realistic looking, and they all get along well together. His name is Smoky the Singing Salamander. His mouth is wide open, and at first I thought we was yelling, or perhaps constantly hungry. But Mary determined that he likes to sing rock and roll, possibly Elvis, and he likes to "serenade" the other lizards. He also like to yell when we go through tunnels.
We also bought a little black bear. I have one at home that I got from my mother. His name is Blackie. We have named the new little one "BJ" for Blackie Jr. He likes to sit in the back seat inside the hood of Mary's jacket, or snuggled up in Mary's blanket. We think he might believe the tiger on Mary's blanket is actually his mama bear.
We learned that the Smoky Mountains are named for the "mists" that rise here in the late afternoon and evening. We first noticed this last night even before we got to the park. I kept asking Mary whether my windows were dirty or whether it was foggy outside. Some brochures say the mists are due to the unusally dense deciduous vegetation here ... the large levels of oxygen given off by the plants. But the amount of "haze" has apparently increased since the park opened, because of automobile traffic and growth of cities nearby.
We learned that the biological diversity of the Smoky Mountains were caused by the most recent ice age, when species from Canada moved south into the higher elevations of this park, which was just south of the ice sheet. We were told that in the 45-minute drive from the lower elevations to the heights of Clingman Dome, we would encounter the same change of plants as we would in a drive from Tennessee to Canada.
We learned that there are more salamanders,
by weight,
in GSMNP than there are bears. That's a lot of salamanders!