Pardon me boy, is that the ...
Tuesday 16 May 2006, 7:50 pm
---
Tuesday, May 16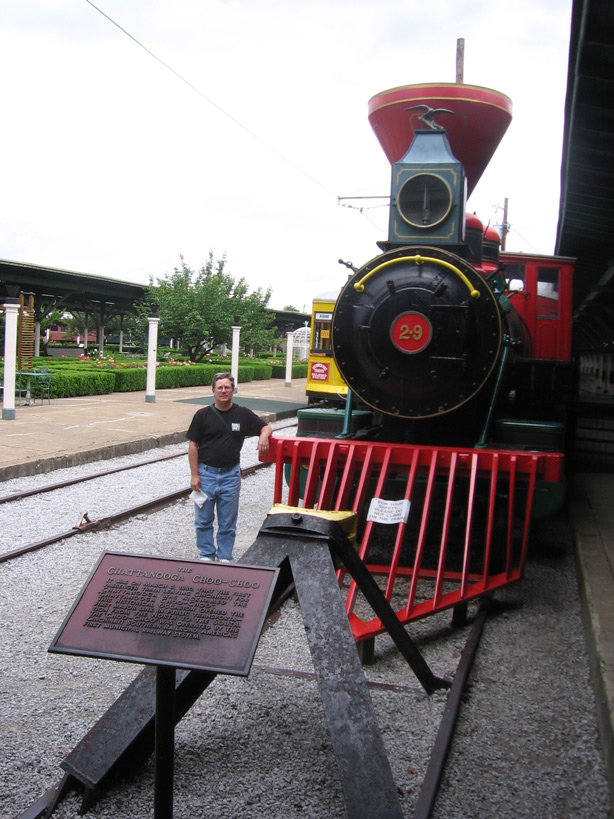 > Today we went to
Ruby Falls.
It is an indoor underground waterfall over 100 feet high. You have to go down in an elevator, then take a guided tour that lasts about an hour. The whole thing is quite over-hyped, but the waterfall is nice. They played obnoxious music at the waterfall (Mary does not agree that the music was obnoxious). They did have the waterfall lit in a nice way. They let us go "underneath" the waterfall which was the best view. Along the way, we had to walk through a cave that had lots of formations identified. Since we had already been to Carlsbad and Mammoth, this cave had nothing new to offer us. But it did allow very close-up view of some interesting formations like drapery.
We went back down the
Chattanooga Choo Choo,
got some ice cream to soothe my sore throat, then bought choo choo hats in the gift store.
Tomorrow, we want to visit the Ave Maria Grotto in northern Alabama. We head south and with Mary driving we make it to Cullman, Alabama. We settle into the motel and make our homemade pizzas, which don't taste half bad.