The Battle for Chattanooga
Monday 15 May 2006, 7:50 pm
---
Monday, May 15
Today we ran a marathon. We started the day by sending a birthday package to Matthew. We bought a bunch of stuff for him at the Cracker Barrel store last night, and today we visited the post office to fill out custom forms and whatnot. Then Mary had to check out a
Hobby Lobby
store since she has heard of them but never visited one. She did buy a bunch of stuff but did not spend a lot of money. She really liked the selection and the prices. I whiled away the time in a Best Buy store next door. I found a CD of hymns recorded by Johnny Cash, and the Passion CD recorded by David Crowder Band having the song "How Great Is Our God,", which Mary really likes.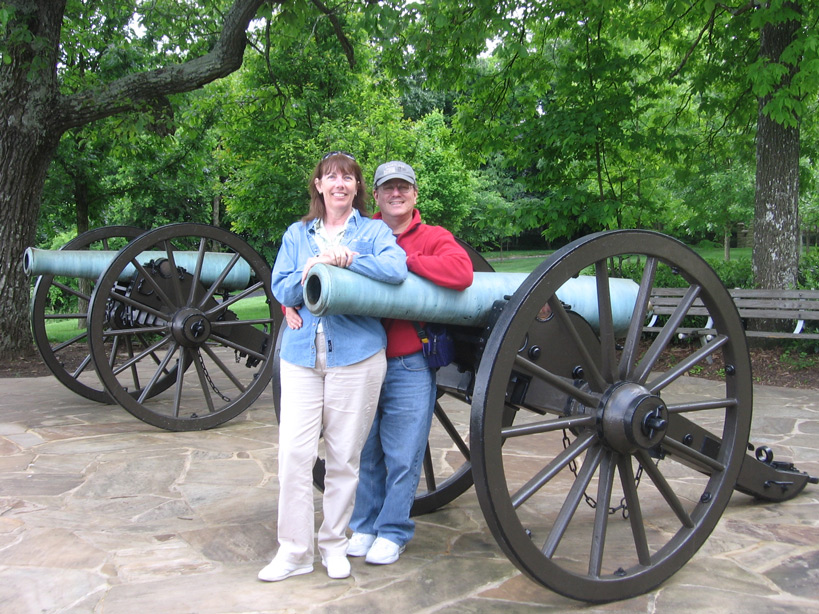 > Then we went on a shopping spree at the local Chattanooga health food store. The selection was very good and one of the stockers there was very helpful, but the guy who checked us out was rude. We found some gluten-free pizza crusts that we hope to heat up later in the toaster over. Mary found pre-shredded cheese and I found a small bottle of pizza sauce.
Our first attraction was
the Incline Railway
on Lookout Mountain. This rail line rises about 1000 feet over the course of a mile, or an average 18 percent grade. You can view the valley below as you rise. When we bought tickets, we bought a package that also includes a gardens called Rock City and a waterfall called Ruby Falls.
At the top of Lookout Mountain there are two very interesting attractions. One is the
Battles For Chattanooga Museum,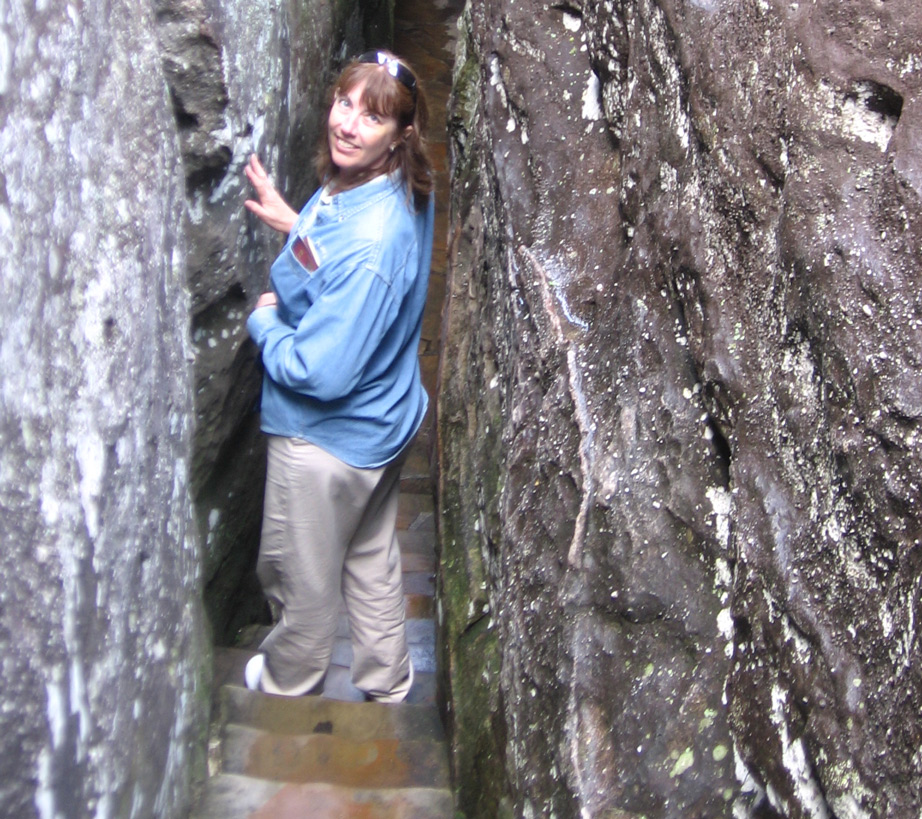 > which includes the "Electric Map." This is sort of a large relief map of the Chattanooga area populated by armies as they would be positioned during the Civil War. The lights dim as in a theater, then the map lights up with all the action that took place during the war. A running commentary tells you everything that is going on. I liked the fact that it was done on a map. Mary liked the fact that it was a "visual" presentation. She still questions why the schools don't present history in interesting ways like was done here.
At the top of Lookout Mountain, there is also a
National Park
devoted to the Chattanooga battles. The museum there was closed, but the park makes for a nice little walk, and the views are outstanding. There are some Civil War cannons posted around the park, and another couple took our photo, then I took their photo.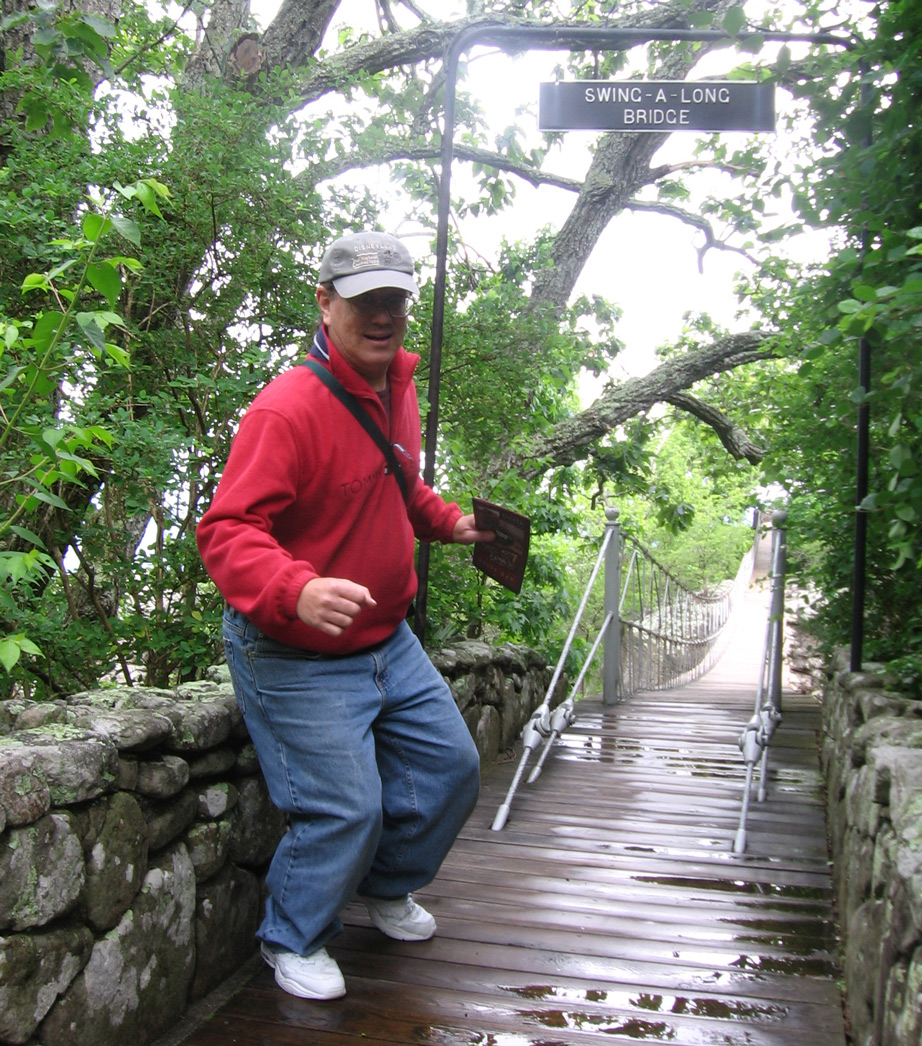 > Back down the mountain and halfway back around we found
Rock City.
I thought this was just going to be a scenic view from a high overlook. But it was much more than that. It is a natural pile of very large stones that you can walk between like city streets. The owners built a path that goes down through the rocks then comes up to let you walk on bridges over the rocks. They claim that you can view seven states from the overlook, but I don't believe it. It is a very pretty walk and the owners have tried to make it interesting by adding "fairyland" sections and whatnot for the kids.
We still had tickets for Ruby Falls, but no time to use them today, so we decided to stay here one more day. We drove to a downtown area to see the Chattanooga Choo Choo. We did not even know what to expect. Turns out this is an old train station converted into a hotel and conference center. There are some shops and stuff too. We are too late to shop, but we had dinner in the hotel. They were really not prepared to serve any kind of gluten free meal, but we made the best of it.
On the way back to our hotel, we found a Staples store and I bought a refill for my favorite pen. It has been out for weeks, but we haven't seen a Staples until now, and they are the only store that carries refills. (It is the PhD Multi, which also has a PDA stylus.)