Racing the rain
Wednesday 10 May 2006, 11:27 pm
---
For the first few days this week, there was heavy wind and rain in the late afternoon, and on at least two days, there were tornado warnings withing 30 miles of us. We bought a radio that has weather band but it is useless. Fortunately, when there are tornado warnings, they interrupt the radio stations using the
emergency broadcast system.
So if we are listening to the radio we do get some indication what is happening near us.
Wednesday, May 10
It rained again all night. It was intermittently very rainy in the morning, and constantly very windy. Our choices for today include a riverboat ride and Graceland. Both seem to be lousy choices for a rainy day. We're trying to figure out which direction to head to escape the storm. But now we seem to be right in the middle of the storm, which covers several states. Our best chances for escape seem to be toward the west into Oklahoma or Kansas, but neither of those states has sights that interest us. We ran some errands, then ate at a Waffle House near our motel. While sitting at the Waffle House, things appeared to clear up a bit. Mary likes to talk about a "sucker hole" in the clouds but things actually do like very clear on the western horizon, where these storms are coming from. I called the riverboat company and they say they will indeed do their 2 pm cruise unless the wind kicks up or not enough people sign up. The boat includes two outdoor decks and one enclosed deck in case it rains again.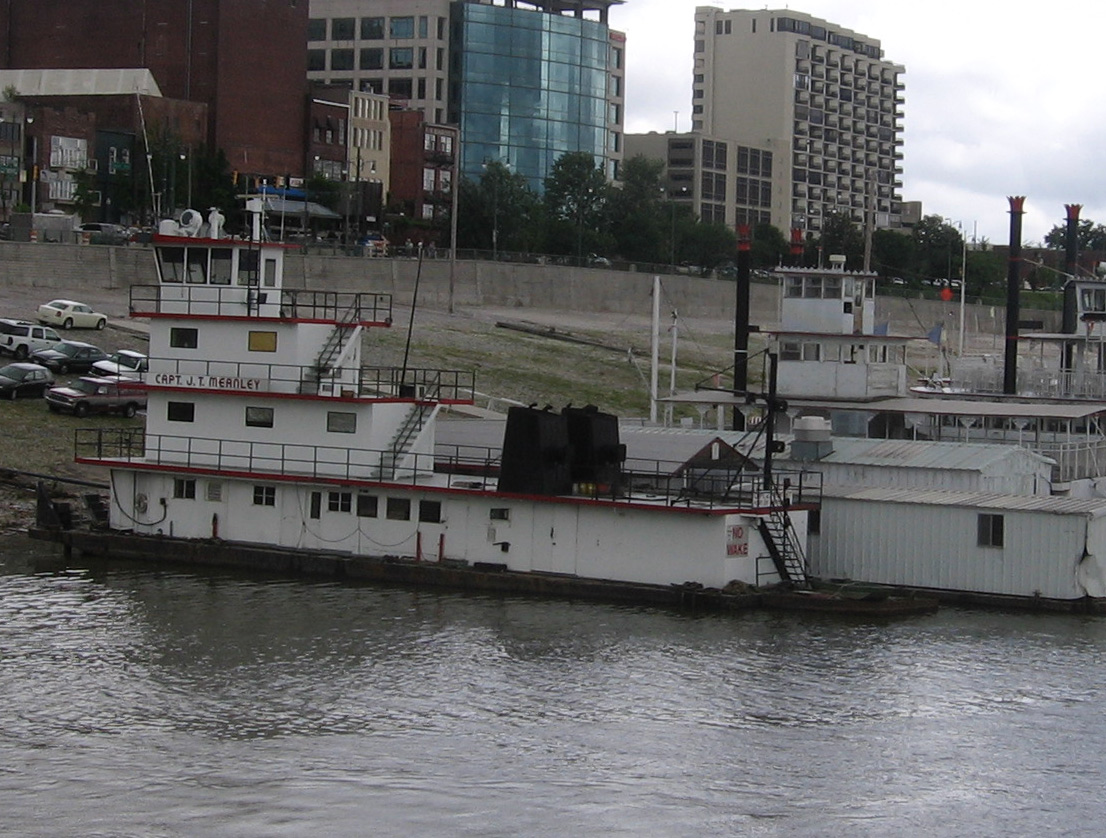 > This sounds like a better option than Graceland, which costs more, and part of the Graceland tour would be outside, self-guided, slogging through the wet lawn and mud. Even if the rain let up.
The riverboat cruise ended up two people short, and they were going to cancel, but each of us chipped in enough that as a group we could buy two more tickets and the tour was a go. The cruise itself was not too notable. We did go under a few bridges, some of which were very old. We were informed of a few things like the bluffs on the Mississippi side as opposed to the flat flood plain on the Arkansas side. This means that when the river floods, everyone comes over to the Mississippi side to stay dry. There were also some eddies under one of the bridges, where the river would run backward on the top. Other than that, there was not really much interesting to see.
However, they did discuss the role of Memphis as a stop on the underground railroad, as a center of riverboat traffic of various kinds, and as the birthplace of the blues. Some of these things were interesting, but we could have learned them without taking the cruise. The cruise itself was relaxing and we thought it mostly worthwhile afterward.
We tried driving around downtown Memphis. We found the BB King club, the Gibson guitar factory, and the Museum of Rock & Soul. But they allow no street parking anywhere, and the only parking lot we found was $10 flat rate. So we decided to pack up and find our next destination.
For some reason, we still think we can head north to escape the rain. We decide to head for St. Louis, and see how far we can get. We get as far as Sikeston, where we found some factory outlets. Mary didn't really want to stop, but there was a scrapbooking outlet store and I thought Mary should at least give it a chance. As it turned out, Mary found several things she needed in the scrapbooking store.
There was also a Bible outlet and I found a new Bible there. It is New Living Translation, smaller than my present bible, with a zipper cover built in, and plenty large print for my old eyes. It cost more than I wanted to spend, but I figured it will be a nice smaller bible to take to Europe later this year. Also, I will be finishing my present bible within the next few days, so I will need a new one pretty soon.
We also found a shoe store and a store with socks, where I replaced the tennis shoes and socks that I ruined while working in Mississippi. I had really needed new shoes since before we left, but there was no time when we were home, and no opportunity until just now.
We continued up toward St. Louis, but it started raining again and it got worse as we went along. I figured we could either stop before St. Louis and probably have to unload in the rain twice, or continue as far as possible, and if we can stay two nights in St. Louis, we only have to unpack once. We eventually found a nice place, inexpensive, on the west side of town in an area called Westport.
Let's pray for dry weather tomorrow.