Natchez Trace
Monday 8 May 2006, 11:27 pm
---
We've settled into a bit of a routine this week. We get up around 10 am and leave the hotel just around check-out time. We usually try to find something to eat, so we don't really get going until noon-ish or later. In the afternoon we visit something. Some time after 5 pm when most of the museums and sights close, we get on the road for at least a couple of hours. We find a hotel and we stay up until around 1 am reading our bibles and checking stuff on the internet. We've had internet access just about every night since we left the gulf coast.
For the first few days this week, there was heavy wind and rain in the late afternoon, and on at least two days, there were tornado warnings withing 30 miles of us. We bought a radio that has weather band but it is useless. Fortunately, when there are tornado warnings, they interrupt the radio stations using the
emergency broadcast system.
So if we are listening to the radio we do get some indication what is happening near us.
Monday, May 8
Today we were in Natchez, Mississippi. This is a beautiful old town on the Mississippi River. It is also the starting point of the
Natchez Trace Parkway,
a road that winds through beautiful greenery near the Natchez Trace, an old trail that has been in use for hundreds of years by indians and explorers of the area.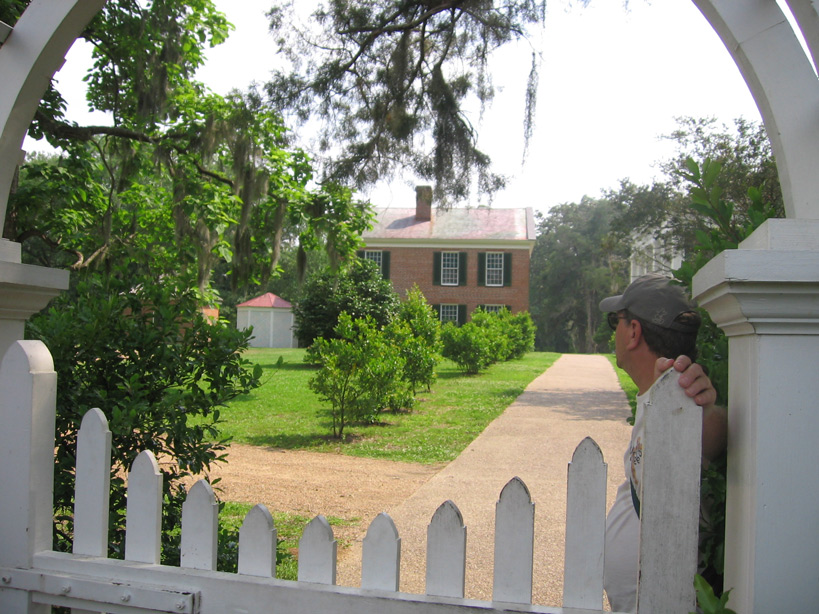 > We visited an old mansion, the
Melrose Estate,
which is a part of the National Park system. This mansion was built in the 1820's, and it is an example of greek revival architecture.
Here is a small picture of the building.
It is a beautiful building, but IMHO the tour was not worth the fee we paid for it. Mary really liked it, though. Even though it is a large building, on the bottom floor it has only the large hallway, a dining room, a drawing room, a living room, and a library. On the upper floor there is the large hallway and four bedrooms. All the rooms are large and they are decorated with the original furniture, which was passed down with each purchase of the property. I guess I just expected more from such a large building. The large central hallway is used to create an air-conditioning draft during the hot summer, but it does not have any furniture so it can't be used for anything else. There are a few interesting features like the ceiling fan in the dining room. It is a large blade that swings back and forth creating a draft, instead of a set of blades arranged in a circle. It has a rope that had to be pulled by a slave in order to operate it.
Then we headed up the Natchez Trace Parkway. It is a two-lane road without much cross traffic, nestled in grass and trees. The scenery doesn't change much, and it's hard to get a grasp on exactly where you are or how far you've driven. It is beautiful and relaxing, though. It was on this road around 6 pm that we first encountered a lightning storm and heard tornado warnings on the radio. The potential for tornadoes was behind us, but coming our direction, and about 20 or 30 miles away. However, the storm was heading roughly southeast and we were headed northeast, so we didn't worry too much but we paid close attention. We figured we were pretty safe after the warnings ended about 8 pm and things dried up around us.
We stayed in Jackson tonight. We have come about 100 miles along the parkway, which winds 300 miles through Mississippi and continues more than 100 miles farther into Alabama and Tennessee, ending in Nashville. We will continue tomorrow until we get bored with it.