The Swamp
Wednesday 19 April 2006, 9:55 pm
---
Wednesday, April 19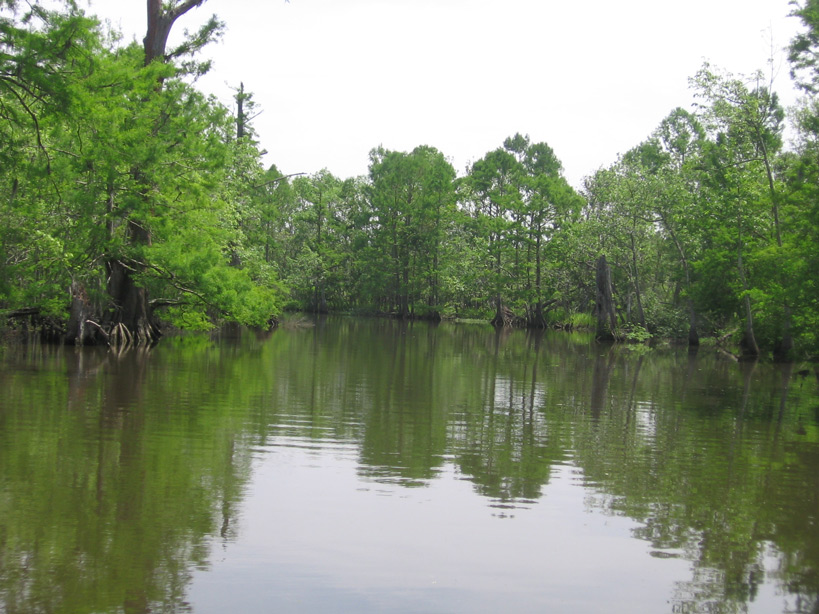 > Today we took the
Amazing Swamp and River Tour.
Mary and I were the only ones who signed up for this tour, although a group of twelve had taken another tour earlier in the day. It cost a little extra, but we got a private tour of the swamp. It included Blue Elbow Swamp, the Sabine River (which separates Texas from Louisiana), and Bienvenu Swamp (sp?) We saw several alligators, more than half a dozen turtles, and lots of birds. The guide's special interest seemed to be the birds. We saw an osprey, which is a kind of eagle. From the top of a telephone pole, he took a dump in our direction as we passed by and made a noise.
We also saw the remains of piers from a mothball fleet that is now gone, and several barges that were used in WWII, now sunk in the river. They still stick out because the barges are about 40 feet high, but the river is not that deep in that spot.
I had been on a similar tour in New Orleans in 1989, but it was neat to watch Mary's reactions, and it was nice to get the more private treatment. We could ask lots of questions.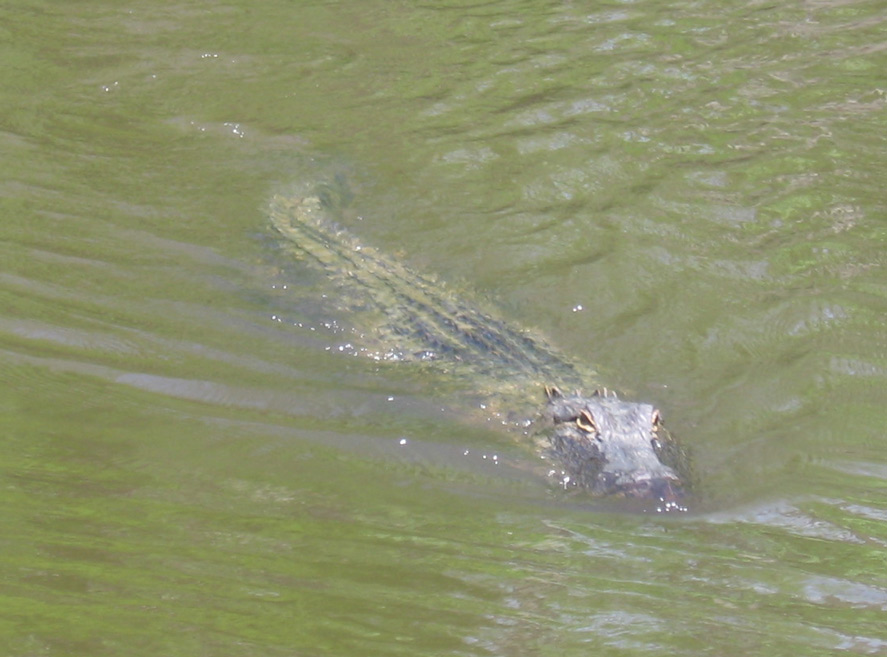 > We had been told that we must eat at
Cajun Charlie's
in Sulphur, Louisiana. Well, so far Louisiana gets an A+ for both food and service. Mary had red beans and rice; I had an appetizer of jambalaya, then blackened catfish. All were wonderful. Charlie himself also made a special dressing for Mary's salad. This one is worth going out of your way for.
We are now staying in Baton Rouge. Tomorrow we might see the
USS Kidd and Veteran's Memorial,
a destroyed docked in the Mississippi River here.
Tomorrow, we are due to arrive in Bay St Louis, Mississippi, to work with CityTeam there for two weeks. That is about three hours away from here, and we hope to arrive there in the late afternoon.
We appreciate all your prayers for our safety and for our effectiveness working with
CityTeam
the next couple of weeks. We had a couple of close calls on the freeway today, and we could feel your prayers and God delivered us from dangerous situations. We are praying for you all too.