Crab Shack
Monday 17 April 2006, 9:32 pm
---
Monday, April 17
Did you file your taxes today?
We stayed on the north side of San Antonio last night. We had Marble Slab ice cream and we found a AAA office nearby. This morning we went out to the AAA office to get maps of Texas, Houston, and Louisiana. I figured we knew our way around San Antonio so I wouldn't need one of those. Oops!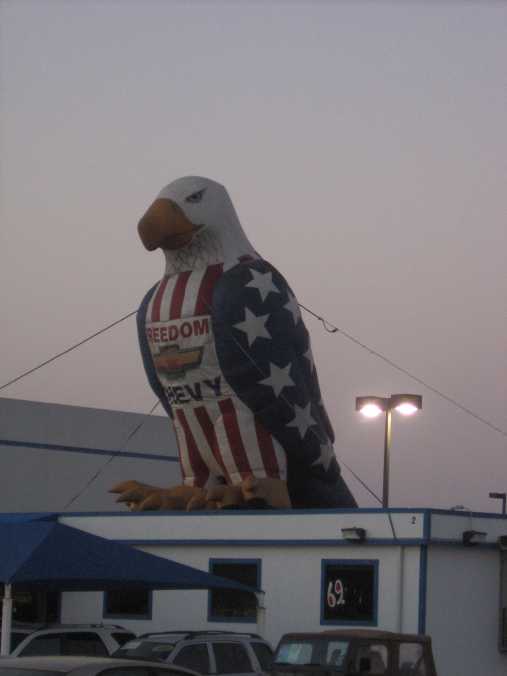 > On the way to AAA we found a Christian bookstore, so we backtracked there to shop for the book Mary is looking for. I also bought a bookmark and a gift for a friend back home ... someone's going to get a surprise later this week!
We ate at Karam's mexican restaurant again. We got lost twice trying to find the freeway exit, but eventually I found a street that looked familiar and we got there. We had lunch this time instead of dinner (no margaritas because we have a long drive ahead of us), and it doesn't seem as good as last time. But still good!
The ride from San Antonio to Houston was pretty boring. Not ugly, and there were occasional patches of wildflowers along the freeway, yellow, then blue, and a little orange-red, but the closer you get to Houston, the flatter it gets, and the road is perfectly straight.
I-10 backed up and stopped almost dead on the west side of town, so we got off and tried surface streets. That side of town is pretty with lots of grass and lots of parks. Eventually we found our way to a toll freeway, and the toll takers gave us good directions how to get to the Space Center.
After checking in to a hotel in Webster, we followed the advice of the hotel manager and headed down the road to Kemah, a little town with a boardwalk and lots of seafood. Not quite as far as Galveston, but still we didn't get there in time to see the sunset. Rats. Had dinner at Joe's Crab Shack ("Eat at Joes"). We sat outside because it was warm but not too hot. A little muggy, though. The truck was wet when we returned to it. Anyway, the food was good, but I wouldn't send anyone out of their way to eat there.
Tomorrow we will visit the Johnson Space Center here in a little town just south of Houston. We would also like to visit the Cockrell Butterfly Center at the Houston Museum of Natural Science, but it is near downtown and after seeing the traffic today, we're wary of venturing in that far. It might also be too much to visit both in one day, but we could stay here a second night if need be. This hotel is a little expensive, though.