Sedona
Wednesday 12 April 2006, 10:30 pm
---
Wednesday, April 12
Wednesday was our fun day bumbling around Sedona. We stayed in Cottonwood last night, at the pleasant
Little Daisy Motel.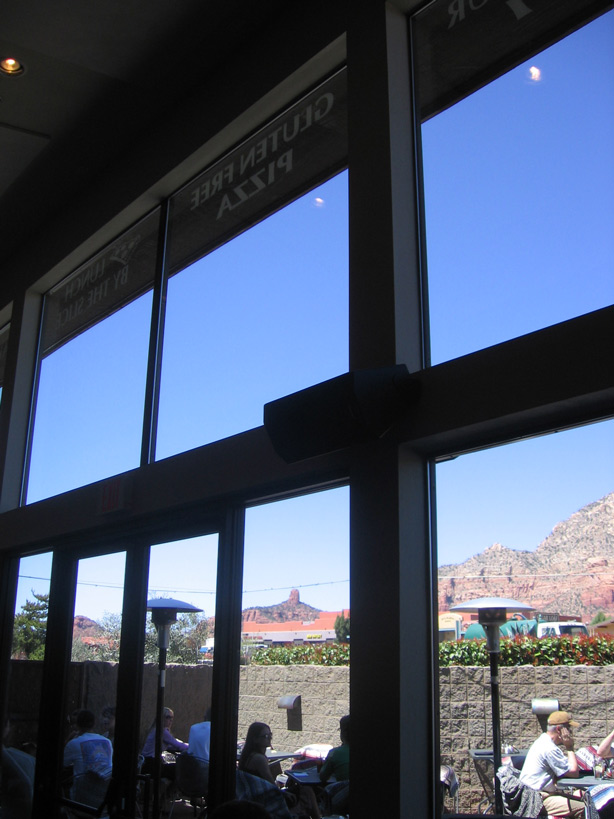 "Gluten free pizza!" What? We turned around and went back. Sure enough, The
Red Rock Loop
definitely gets 5 stars. It winds around a few miles through red rock canyons on a dirt road. There are also some nice homes back there.
As we headed back into Sedona, Mary yelled "quilt shop!" The Sedona Quilt Store had some interesting western patterns but the people were not that friendly. We bought a few patterns. Just a couple blocks further on down Mary yelled again ...
Picazzo's Gourmet Pizza and Salads
will serve any of their whole pizzas on a gluten-free crust. They also helped us to find gluten- and vinegar-free toppings and salads. Mary was in heaven! This was definitely a highlight of our trip so far. The waitress told us that people have come out to Sedona all the way from Indiana just to eat this pizza.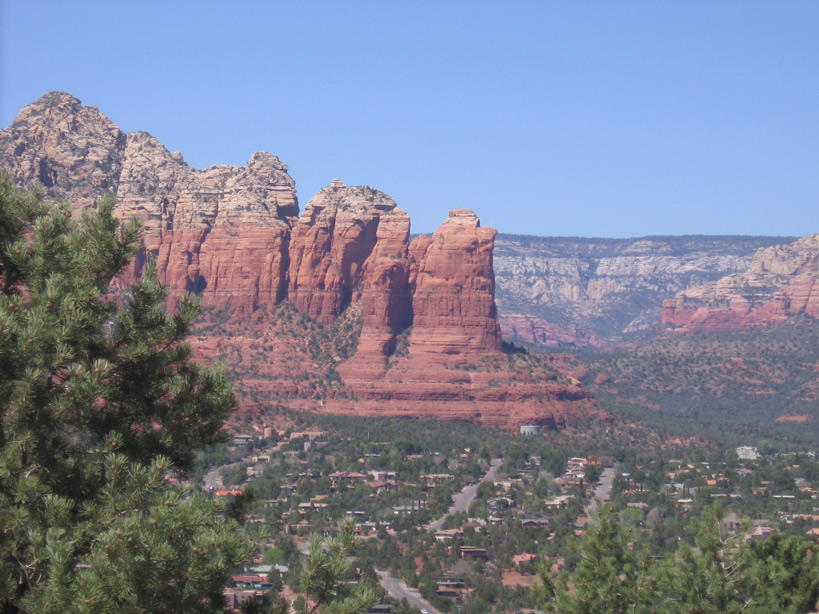 Next, we went up the Airport Road to the overlook. You can see all of Sedona from above. Many of the buildings are painted red to match the surrounding red rocks, but there was one cluster of whitish buildings right in the middle of town. I think these may have been some kind of industrial buildings, but Mary thinks maybe they were mobile homes.
Finally, we got our chance to visit the
Chapel of the Holy Cross.
This is a small Catholic Chapel set high in the red rocks. It is known for its large stone cross built into the windows and the hillside. We've been here before, but never inside. They have a nice gift shop downstairs and we bought some post cards. Then we went inside and prayed for several minutes. We prayed for Matthew and many other things. There were candles to light and all the Catholic stuff we don't understand. This was another highlight of our trip so far.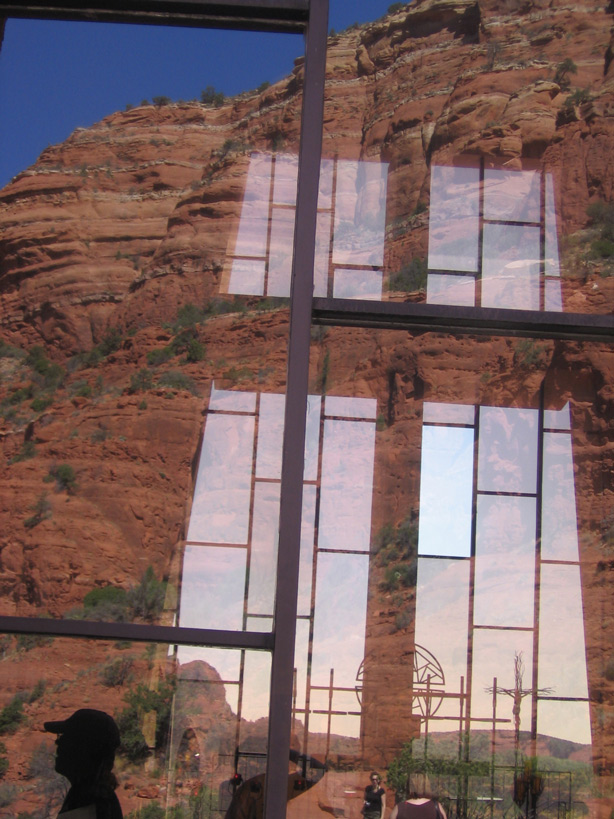 We left town via Schebly Hill Road. This is a rough dirt road that climbs to several stunning vistas of red rocks. We definitely needed my high-clearance truck to do it. We were told that sunset is the favorite time to travel it, but we started around 3 pm. It took us right out to the freeway to Flagstaff, so off we went. Goodbye Sedona, we'll be back again!
We decided to make it as far towards Albuquerque as possible. We want to visit Rosabelle tomorrow. Mary took a little nap while I drove as far as Gallup, where we had to get gas. Then Mary took over while I rested. We arrived in downtown Albuquerque around 10:30 pm by our watches. But unknown to us, when crossing into New Mexico, we lost an hour due to entering Mountain Daylight Time (Arizona is on Mountain Standard Time all year). So it was actually 11:30 pm. I slept better that night.