The Day From Hell
Tuesday 11 April 2006, 10:57 pm
---
Tuesday, April 11
Highlights: The Pitch, The Chiropractor, Emetrol
I woke up with a headache after not having slept well again. Why I can't sleep in an expensive resort is beyond me, but we'll find out before the end of the day.
We have a noon appointment for "the pitch" where they will try to sell us a time share in this resort. We both agree that we are really not interested. But it really does sound appealing. After discussing it with them for two hours (it was supposed to be a 90 minute pitch), they let us take a lunch break to think it over. The problem is that you
must
sign up
today
in order to get all these other extra benefits. It's really the additional benefits that are most appealing, because they include big discounts that might help us on our present trip. I really hate being railroaded into making a quick decision.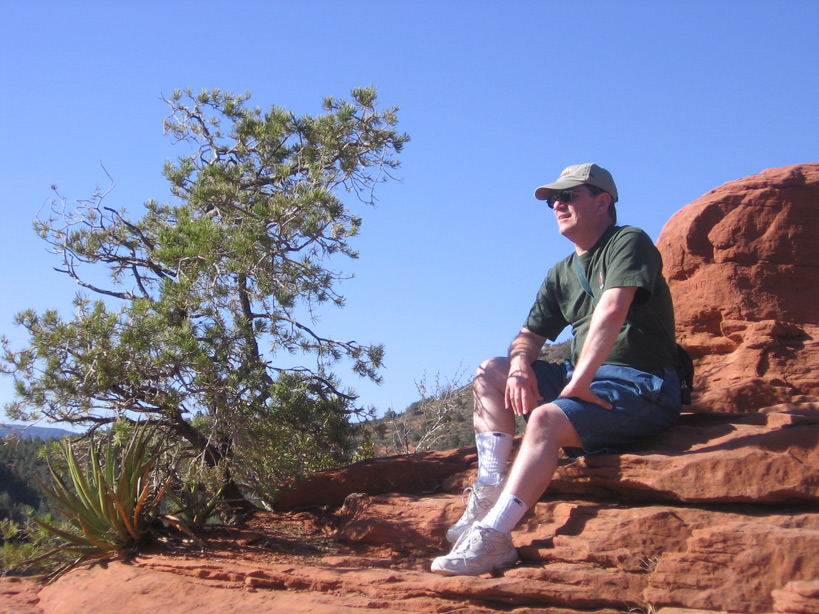 I can't even eat my lunch. It has nothing to do with the time share pitch ... I am just physically ill, and I don't know why. My headache is getting worse. During lunch, I got another phone call ... the missing paperwork, which I sent off the day after Disneyland last week, was filled out incorrectly. I'm not sure exactly how to fix it, but I have to fill it all out again, have it notarzied, and send it in again. And they won't tell me how to fix it ... I have to supply some numbers, it's a security feature. I understand the necessity of it. But, what a bother!
It takes another hour before we got them to sign us out without a commitment. Meanwhile, the concierge found a chiropractor so I can get some treatment for a neck that won't move, a headache, and persistent nausea. David Hart at
Hart Family Chiropractic
in Sedona, 928-282-8493, was a real life saver. In addition to fixing my neck, he diagnosed that my headache and nausea were caused by low blood sugar and dehydration. Sedona is at 4500 feet and the effects of the sun here are more pronounced than they would be at our sea level home. Dr. Hart also suggested some short-term remedies and some longer term strategies for dealing with low blood sugar. Short term, eat some raw nuts and drink some pure juice. This will get some protein and good sugar into my system. Longer term, the same as we've heard all along from our doctor at home ... balance the carbs with protein, eat smaller meals more often, and stay hydrated at the higher elevations.
After some pain killers and some Emetrol (an anti-nausea remedy) we found at Walgreens, I started to feel better. We also found a health food store that carried some good juice; we also stocked up on gluten-free products.
I regained my appetite about four hours later, around 10 pm. Dr. Hart actually called me on my cell phone to see how I was doing. Since we had wasted a day with time share pitches and illness, we decided to stay around Sedona one more day. This proved to be a great decision, as Wednesday was much more pleasant than Tuesday was unpleasant.