Death Valley
Saturday 8 April 2006, 9:39 pm
---
Saturday, April 8
Highlights: Death Valley, Pahrump, Las Vegas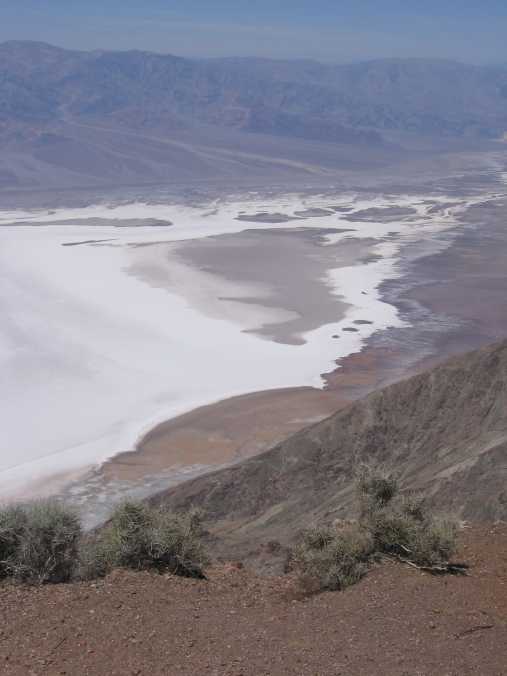 > We got up at 5:45 in order to get into
Death Valley
early, I've heard that sunrise is the best time to see it. This is
way
early for us. We both slept OK, but not nearly long enough. Because I made a wrong turn, we had to go at least 10 miles out of our way on the freeway before I found a place to make an illegal u-turn in the median. This put us almost half an hour behind schedule.
We entered Death Valley from the south entrance, near Shoshone. Wish we'd known better. There really is not much to see between the south entrance and Badwater, which is almost to the middle of the park.
The weather is cool at the higher elevations, but rises as you descend into the valley in the main part of the park. We never found it either cool enough or warm enough to be uncomfortable. The bright sunlight does tire our eyes, though.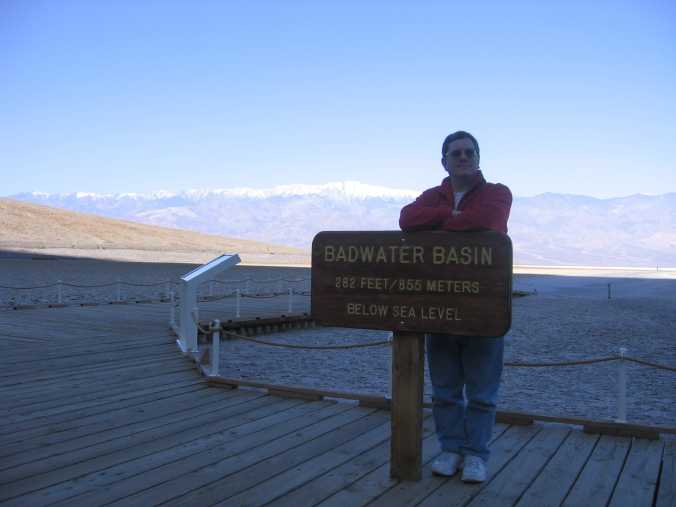 >
Badwater
is 282 feet below sea level. The ground is white and salty. There is a huge mountain next to it, and you can look up the mountain to a spot 282 feet up labeled "sea level." There is a boardwalk where you can walk out a little ways. There actually is a little pool of water there, the pool named "Badwater" because the water has too many minerals to be drinkable, although it is not toxic.
There is a gas station, store, lodge, and visitor center in
Furnace Creek.
In the visitor center, we get good advise about what to see in a short time. We don't really want to be here tomorrow because we want to go to church, preferably a Calvary Chapel like our church at home.
Gas is about 3.79 in Death Valley!
We decide to go as far as Stovepipe Wells, but not as far as Scotty's Castle. Probably the highlight there is the
Salt Creek,
where you can see pupfish mating. Pupfish are only about one inch long and they are very cute. They seem to be playing tag like children. On closer observation, it becomes apparent the males are chasing the females. They mate by sidling up next to each other, pausing a moment, and exchanging eggs or bodily fluids or whatever they do. It's fascinating to watch.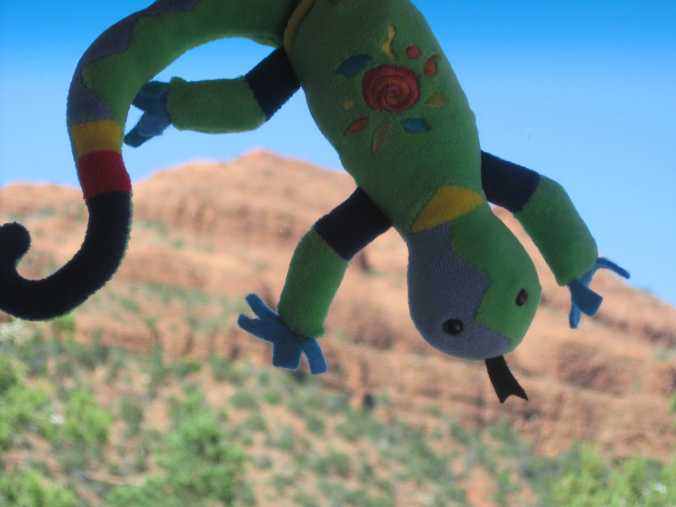 > In the store at Stovepipe Wells, we bought bologna, jerky, ice cream, and Pahrump.
Pahrump
is a city in Nevada, but it is also the name we gave to our trip mascot, a little green and blue stuffed lizard we bought. He likes riding on the dashboard and soaking up the rays. He's very easy going and doesn't care much what you do, what you say, or even what you call him ... Pahrump, Pupfish, "the lizard," "hey you," or whatever. He's as low strung as we are high strung. God brought him into our lives to teach us how to relax and not sweat the small things.
We got into Las Vegas but we could not find a place to stay. We are looking for something really cheap, but it's Saturday night and spring break and everything is full. I got quotes for 149, 129, and 89 before crying. We prayed. Seriously. At one hotel they gave us the card for a hotline you can call. The gal on the other end called me "honey" about a dozen times during the three minutes we talked. She told me the cheapest hotel in town would be about 189, and even the chains were all full. She told me to call the 89 dollar motel back and snap it up. I called back, and the rate had gone down to 74! God does answer prayer. We had a room at the Klondike Casino.
But the hotel was disgusting.
(The Klondike.)
We waited an hour in line for them to process about 8 people ahead of us. Everyone around us was gambling, smoking, or drinking, even doing all three while waiting in line near us. Then we waited another half an hour for passable but cheap prime rib. The room was a smoking room but guaranteed aired out every day. Been there, done that. But the room wasn't bad from the odor standpoint. Our clothes smelled more from smoke just due to waiting in line at check-in. But the sink was so rusty that Mary refused to even brush her teeth. We had to keep reminding ourselves that we had prayed for a place to stay, and this is what God had provided.
But ... we will be able to go to church tomorrow at our choice of any of several Calvary Chapels. Which makes it worth it. We pray for the people at this very dark hotel. I refused to even have a drink with dinner. I refused to complain about the long wait. I refused to complain about the smoke. In this very dark place, we need to be the brightest lights we possibly can.