Santiago Airport
Tuesday 22 August 2006, 4:25 pm
---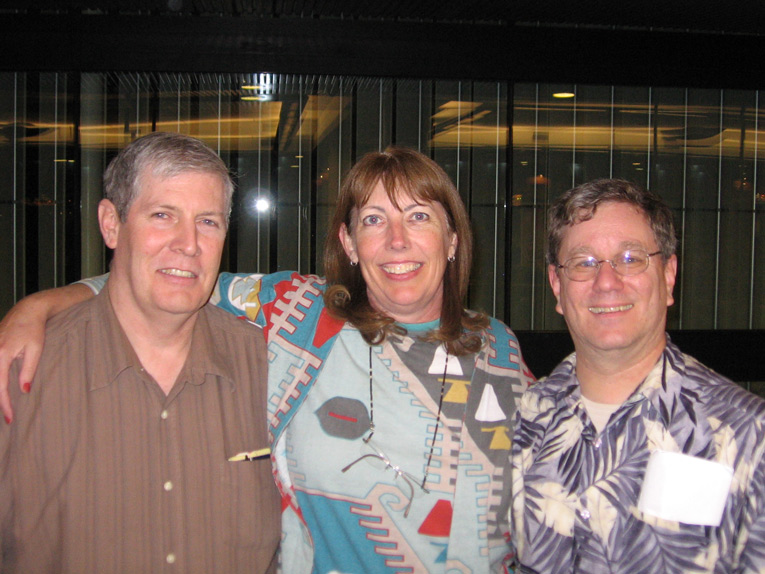 Santiago, Chile has a really nice airport. We had layovers of eight hours both times we passed through this airport. On our way out to Chile, we stayed in the LAN Chile VIP lounge at Brenda's suggestion. At that time, we had been on a plane for 12 hours, and it was early in the morning so we were very tired. The VIP lounge cost us $18 each but we were able to stretch out on a couch and catch up on sleep. They also provided drinks of orange juice and soda (even alcohol, which we didn't touch), and some snacks that we could not eat because of our gluten sensitivity, but which others would enjoy.
Brenda suggested a restaurant, Gatsby, where we were able to find a salad with smoked salmon. Yum!
There are many jewelry stores in the airport, and in the one across from Gate 16 I saw some stuff I thought Mary might like, but she would not let me even check the prices.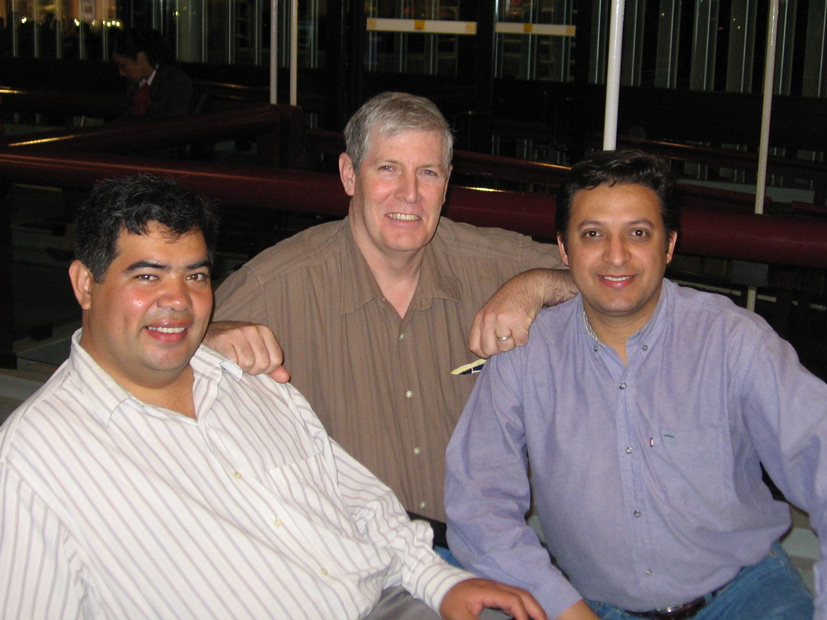 On our return trip, Robert and two other pastors, Daniel and Jorge, were with us on their way to a CMA conference in Lima, Peru. So we did not go into the lounge; instead, I bought two decks of cards for $10 (ouch!) in the duty-free store, and we taught progressive rummy to Daniel and Jorge. We all had a great time laying out cards on the airport floor, and the time passed quickly.
We all ate again at Gatsby, which is coincidentally right under the LAN lounge so I was able to retrieve our email using their wireless.
After lunch, Robert took us on a walk around the international secure area of the airport, and we had missed a whole other section around a corner. They even had a Ruby Tuesday, a nice burger place where Mary and I had been able to eat several times while on our road trip earlier this year. I did find a cap I liked, but it was a youth model and would not fit on my fat head. Why is it that all my favorite caps are the ones for kids?
Mary let me check out the prices on the jewelry this time, and they were reasonable so I got her a necklace and earrings for our anniversary next week. The necklaces grabbed my attention because they have blue and green stones, Lapis Lazuli and Malachite, and Mary wears a lot of both green and blue. We got the ones in a silver setting because the gold costs thousands of $$$. Maybe she'll be wearing them the next time you see her ...