X-Men
Friday 11 August 2006, 8:20 pm
---
I spent the last 20 minutes typing a long entry, then I lost it. Barf! OK, I'll give a quick summary of our day.
Brenda got me and Mary up early to do a 5-km (3 mile) walk in the park near the airport. We saw the sun rise as we walked.
Robert brought us downtown to see two museums and a coin store. One of the museums was closed for no apparent reason, but the other was interesting.
Casa de la Independencia
is the place where Paraguay plotted independence from Spain in 1811. It is similar to our Independence Hall in Philadelphia. Paraguay was the first nation in South America to declare independence. The rest followed closely after in 1811.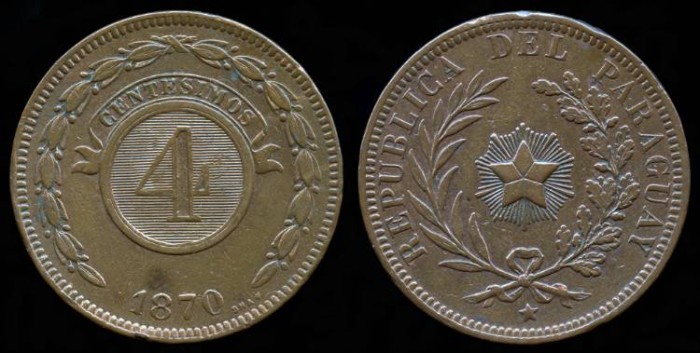 In the coin store, I put together a small set of current Paraguay coins by hand, since the government does not issue mint sets. It included one each 1 Guarani, 5 G, 10 G, 50 G, 100 G, and 500 G. Actually, I bought two different 100 G coins because the older ones have a different color and thickness and a reeded edge. I also got an older 4 centesimo coin from 1870 that I like a lot. It is about the size of the old US silver dollar and it has two wreathes plus a five-pointed star with rays.
In the afternoon Robert and I joined a friend, Jens, to see X-Men 3. It was good but not as good as X-Men 2. I never really knew anything about X-Men but it was interesting. The ladies had their nails done and did some shopping. They found some paintings to cover the house's bare walls.
In the evening we went to
Garfo's
for a quick dinner. They seem to specialize in garlic. We split several small items among us, and it was quite affordable.
Tomorrow we are supposed to go walking early again, so I'd better get to bed soon. (I'ts about 11:20 pm here now.) The most of our day is free until a Bible study in the late afternoon. And Robert volunteered us to help finish painting the Jonah whale story puppet stages in the evening. I might also help Robert with a Powerpoint presentation some time tomorrow.
We've made hotel reservations for our two-day trip to waterfalls in Brazil next week ...