Thunderstorm
Wednesday 26 April 2006, 9:13 pm
---
Wednesday, April 26
The storm started up again early evening, and it rained all night long. In the early morning, it turned into a severe thunderstorm that prevented us from opening the distribution center today at all. They were afraid that the tent poles would act as lightning rods and people would get hurt. I was surprised that anyone would even show up to get food at the distribution center in such a storm, since it tends to be moms and their kids. But a few did show up anyway. We were sorry to have to turn them away.
I slept in this morning because I woke up with a sore throat. I felt better after a coke to cool off my throat, and some aspirins that Mary found for me. It turns out the storm was so bad they just told us to stay in our trailers anyway. Even the mess tent etc. are natural lightning rods. They even turned off all the computers and the wireless routers to prevent any damage to them. This meant we couldn't even use the Powerbook from our trailer because the wireless system was turned off.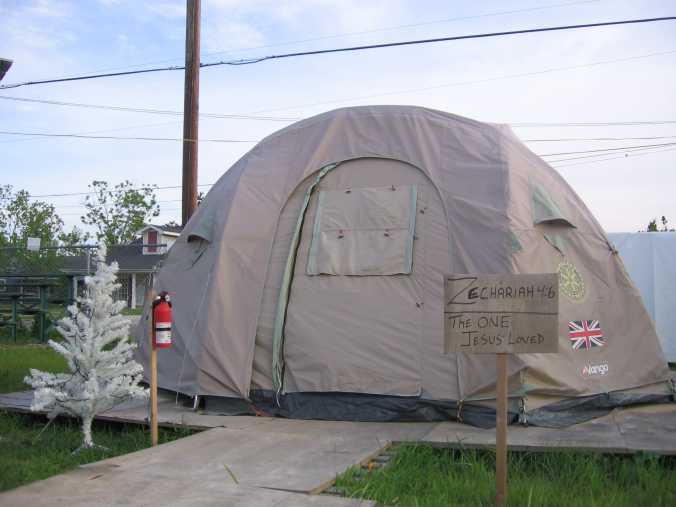 > In the afternoon, once the storm passed by, they told us just to clean up the camp, things that the storm had caused. Things like water in the trash cans. A screen room that Mary and I had put up before was damaged in the storm and we couldn't repair it right away, so we took it down. Some other tents that we'd fixed earlier also suffered some damage. All of the guy lines and other parts of the tents had rotted away in the changes of weather over the last few months. Mary and I bought some nylon twine at 84 lumber and we tried to replace all the guy lines, and we also patched up some of the other problems. We hope this keeps them going for a few more months.
They took us to Sicily's, all you can eat Italian, buffet style, with pizza, pasta, salad, and desserts. All the food we can't ever eat at home! Yum.
I cleaned up the showers again with the power washer because after dinner there was just enough sunlight left to get that done.