Shirley
Monday 21 November 2005, 6:33 pm
---
The last group went home today after lunch. We had a teary-eyed meeting for devotions early this morning. John served communion. He reminded us how both the bread and the wine are symbolic of Christ because they are created by crushing, and out of that crushing comes life. Several members shared ways in which they have been crushed over the years (not just the last two weeks), and they also shared how life has come from their experiences. It was a lot to think about.
Today was much like the other days I have worked in the food bank. It looks like Mary might take over Alice's logistics job, which involves among other things ordering the materials we will distribute. I will probably remain working in the store, because the new crew coming tonight is almost all women. We need to train one of them to take over Mary's job after she leaves, and stocking the store with canned goods is primarily a "guy job."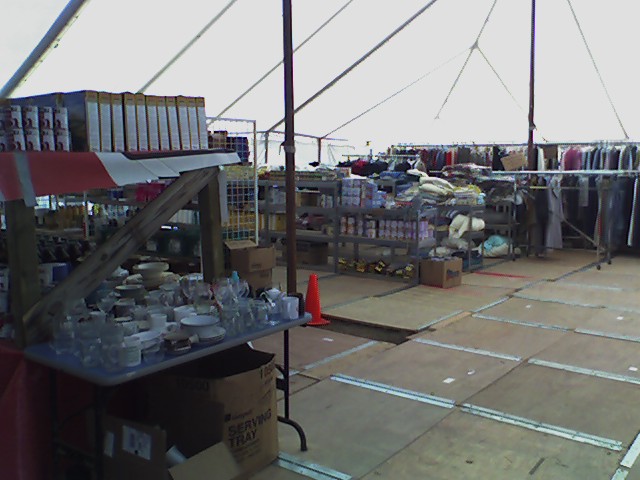 > Today I had the job of "toilet paper cop." This is an important job in the store! We have limited amounts of toilet paper, paper towels, bleach, and certain other items. We allow each family to take only one of each product, and without a "cop" a few people would just clean us out. The unfortunate thing about this job is that it brings you face to face with the less friendly element in the community here. Some people will argue, lie, and steal. I don't like to dwell on it, but it does happen. Mary's job has some of the same drawbacks because she has to process each person who comes into the store. She has to verify that they are Hancock County residents, and after Thanksgiving, they will have to be Bay St. Louis residents. It's difficult because people will lie and present obviously false papers.
Tonight Shirley made us a dinner of spaghetti, sausage, and apple cobbler. She is an angel! I've mentioned Shirley several times, and I thought I'd tell you a little about her. She has a house across the street from the ballpark where we are camping. It is a rental house, she actually lives on "the river" on near "the kill" but I don't know what that means. I don't know the geography here. Anyway, her sister has a FEMA trailer in front of this house and they are trying to fix the damage to the house. Shirley says she is one of the few people in the entire county who has electicity and water inside a house, with working washing machine, stove, and shower. She feels she owes it to the people around her to let them use the things she has but others do not. Also, she says she gets some food stamps every month but she can't eat that much food, so she decided to use them to buy food for us in order to keep the food stamps coming. The previous group became quite attached to Shirley and I'm sure our group will feel the same way.
Shirley has a friend Deb, whose mother started the Hancock County food bank many years ago. The food bank fed about 50 families per day before its building was damaged in the storm. Since the county has a population of perhaps 20 thousand, that is a proportionately large number of people here living in poverty.
I did have some fun today. I finished putting the books in boxes so that they are displayed attractively. Also, we got a few boxes of stuffed animals, and instead of just tossing them in the toy box, I put the nicest ones on a low shelf, about a child's eye level. Then they really started flying off the shelf!
Tuesday is supposed to be only half a work day. Normally Tuesdays and Thursdays are "stocking days" when trucks might come, and we'd spend the morning unloading the trucks and stocking the shelves, and then have the afternoon off. I hope to take another shower tomorrow. Last night it rained pretty fiercely and I woke up at 4:30 am to take a potty break, to discover the entire field a mud hole. Because of the mess, I decided to wear old dirty clothes from last week today. I also hope to put those clothes in the laundry tomorrow.
I still don't know what is happening on Thursday for Thanksgiving.
What else ... we are sharing the ballfield with Disaster Corps, a volunteer organization that is stripping the damaged drywall out of homes and disinfecting the remaining interior. I think their URL is
http://www.disastercorps.org/.
I haven't really met anyone from there, but I thought you might want to know what other relief agencies are doing here.
City Team supposedly has their own blog, but I don't remember finding it before. You might go to their main web site
http://www.cityteam.org/
and just clicking around a bit.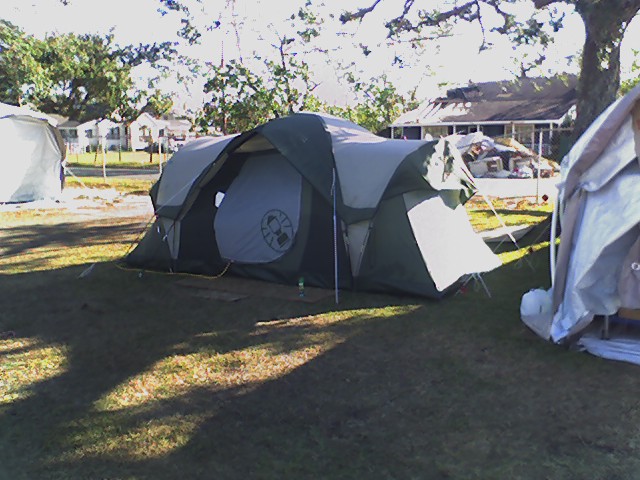 > After the last group left today, they reorganized the sleeping arrangements. One major change is to let the married couples each share a tent! So Mary and I will be together starting tonight. Mary took a shower tonight at Shirley's house, so she is pretty happy. But we also got some bad news about health problems at the
Bacho
household, and we're trying to phone home to find out what happened.
Oh ... one more story. I met a deaf lady today and got to talk to her a little bit. Two ladies were shopping together and one was taking two of everything. She said the second set was for her deaf friend, with her but silent. I thoght they might be trying to pull one over on me, but I asked whether the deaf lady could read lips. I was able to tell her about my own sisters,
Susan and Carol,
who were born hard of hearing and are now deaf. I communicated using a combination of speaking, finger spelling, and a little signing. Her eyes lit up and she just asked whether we all signed. I told her that my sisters signed but I could just fingerspell. She seemed happy to hear about other deaf people. Every day I've been able to talk to one person with whom I share an experience ... playing piano, quilting, knowing a deaf person. It gives me a lot of joy too, and it renders the people here more than just another face, and me more than just another face to them too, I'm sure.