These are album covers from CDs that I made for Mary over the years, starting when we had been dating about three months. There are many more than this, but I made particular ones using the graphics capabilities of PowerPoint, and I wanted to recreate them using Adobe Illustrator.
I made many other album covers based on photographs, some original and some not. I may post them another time. I may also render them as Adobe Illustrator some day.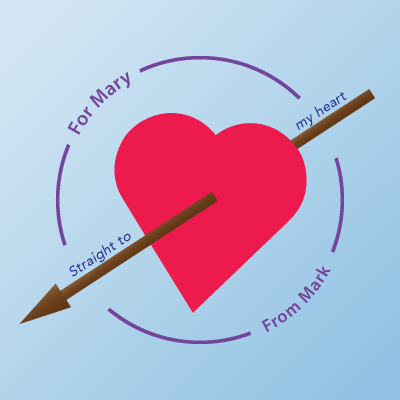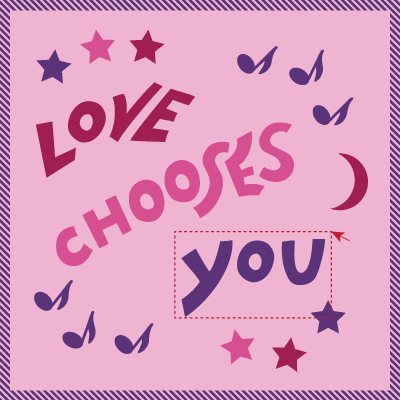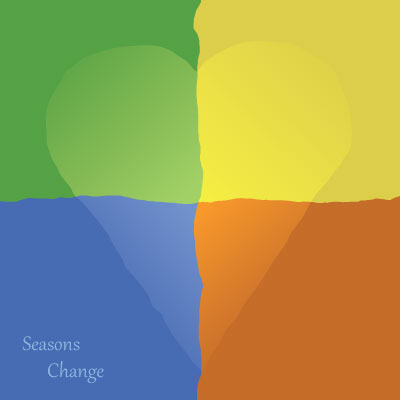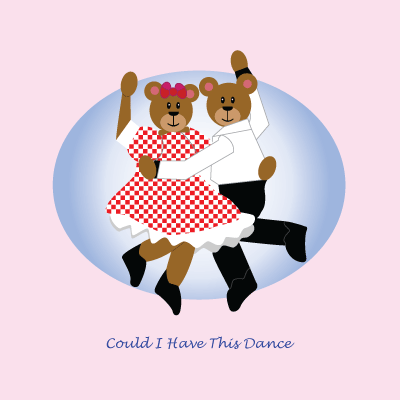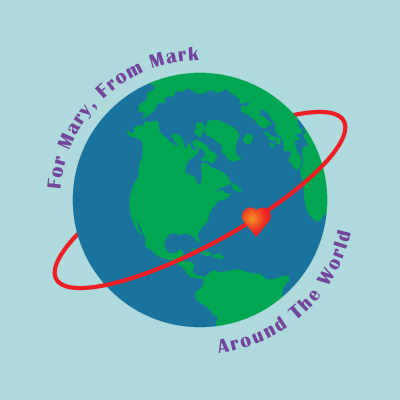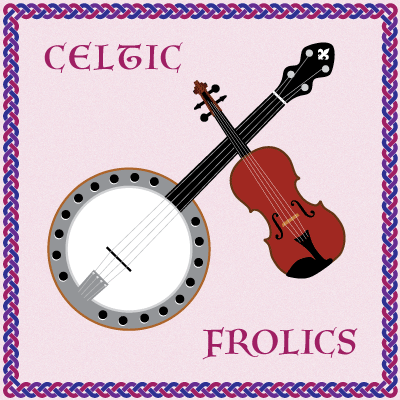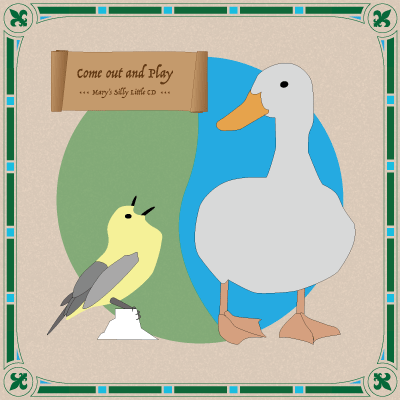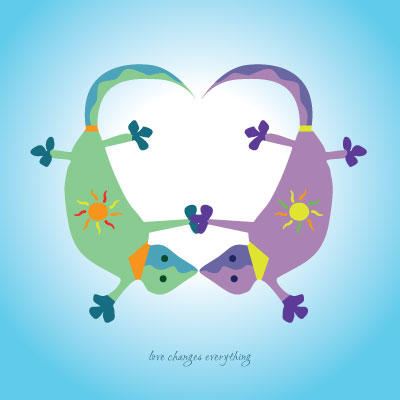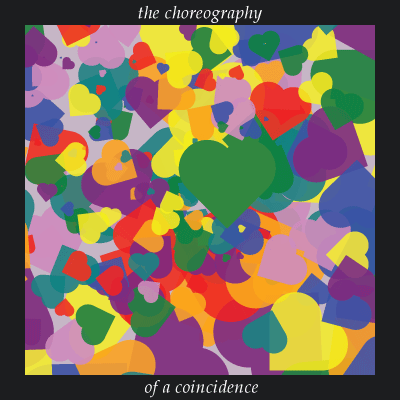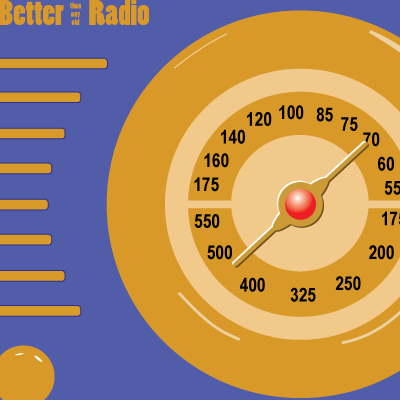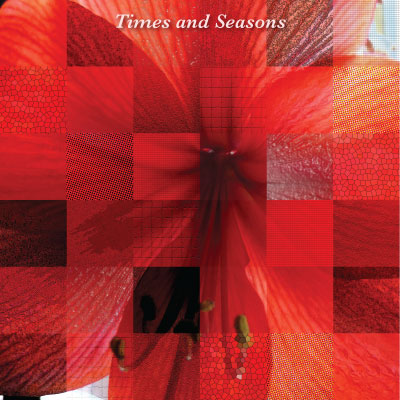 Straight To My Heart (1998)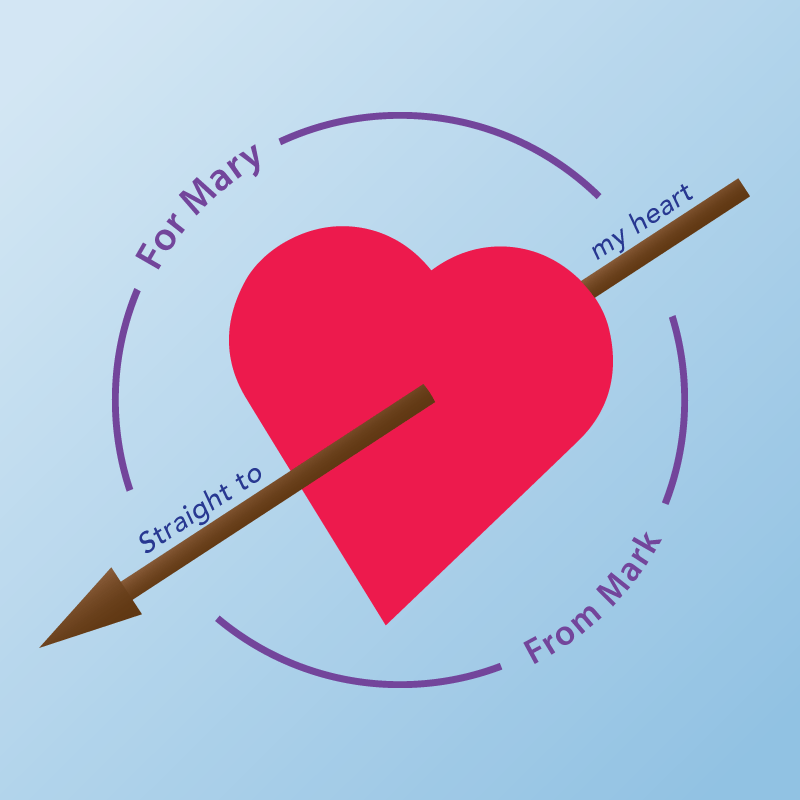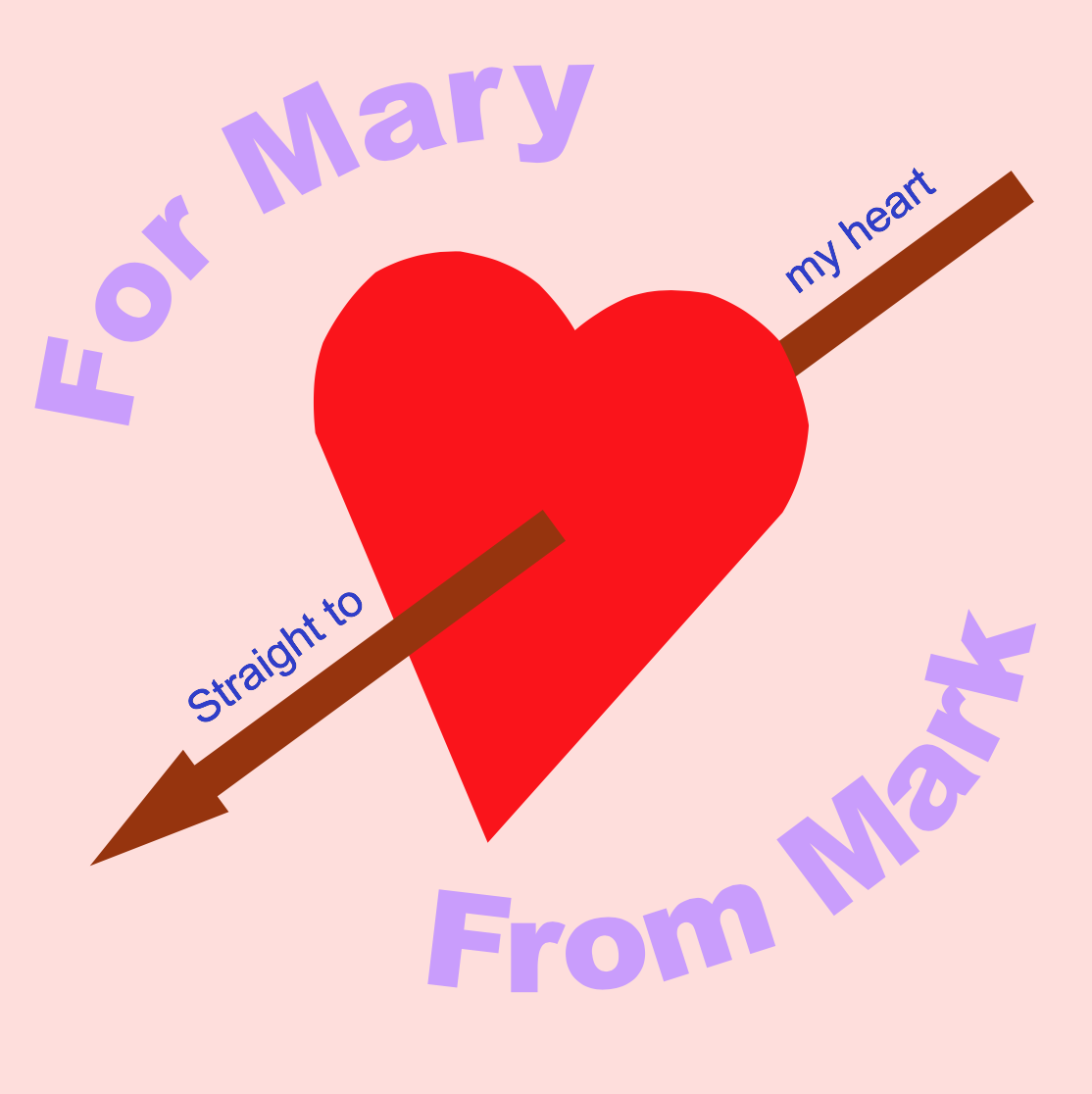 The first CD I made, for the three month anniversary of our first date. I made the font smaller and thinner, the title font oblique, added a halo circle, gave a slight 3D gradient to the arrow, and gave the whole image a background gradient.
This CD has songs by Larry Norman, Sting, Fleming & John, Kathy Mattea, Mark Heard, Bruce Cockburn, Bill Staines, Pat Alger, and others.
Love Chooses You (1998)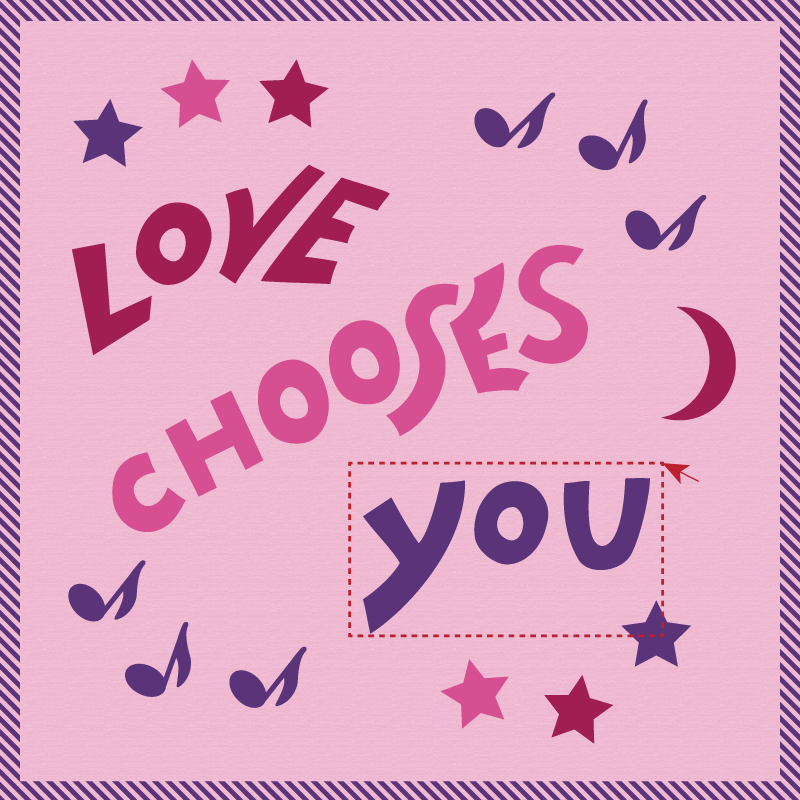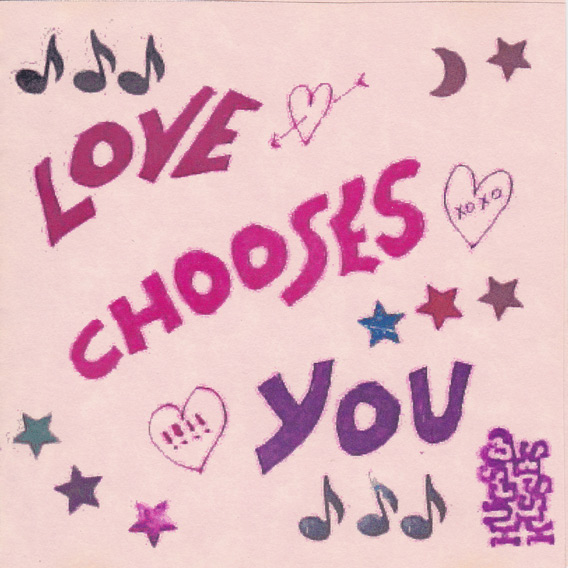 The original cover used pen and stickers. I had only one original; the backups were color copies and low-resolution scans. I traced the letters using the pencil tool. The original was printed on pink laid paper, which I recreated using Illustrator effects.
Songs by David Wilcox, Jane Gillman, Billy Bragg, Michelle Shocked, and others.
Seasons Change (1998)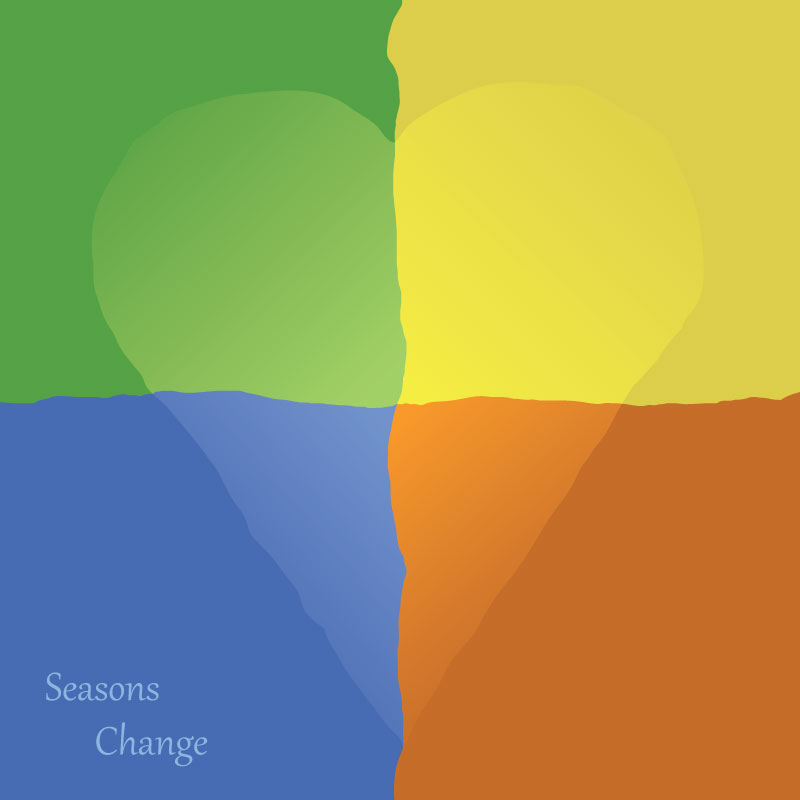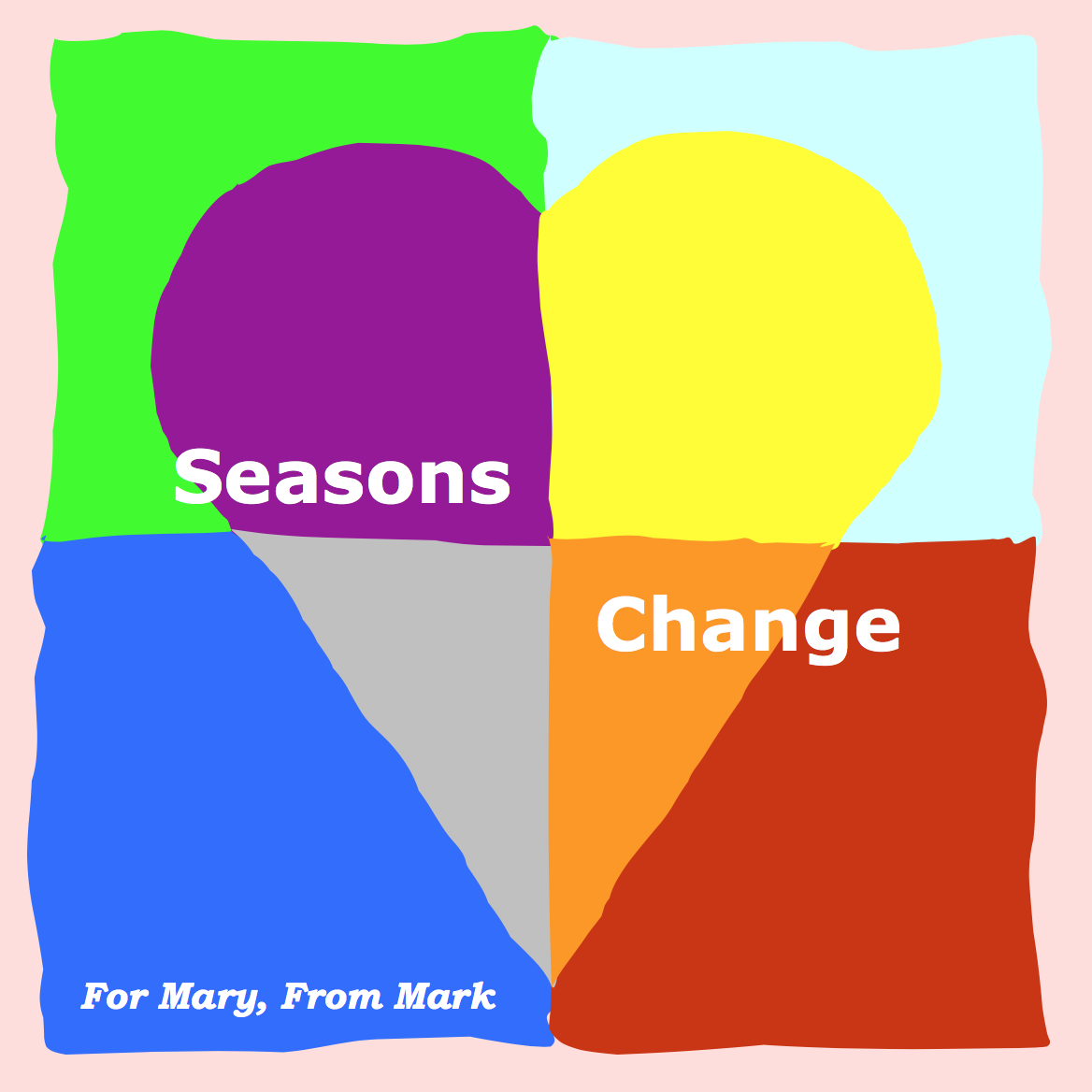 The intent is that this should look like torn paper. The original cover used bright complementary colors, which I replaced with more subdued colors. The heart is still visible but a gradient lets it blend into the background.
This third CD was for no particular reason. Many of the songs are from the modern folk movement. Artists include Brooks Williams, Golden Bough, James Keelaghan, Connie Kaldor, and David Massengill.
Could I Have This Dance (1998)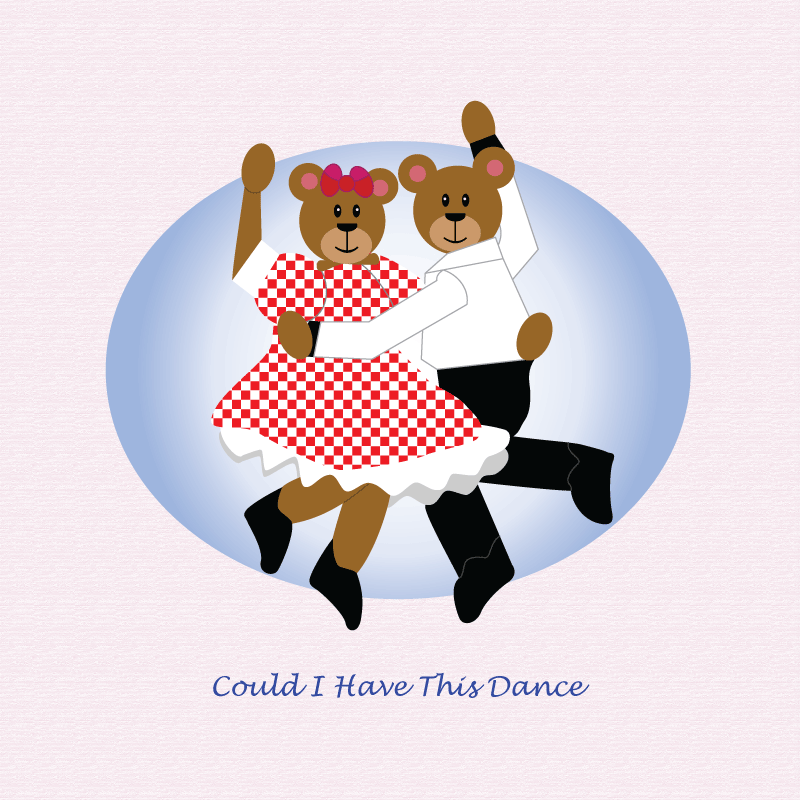 The original cover used canned clip art. I traced the bears using the pen tool and created a pattern for the dress. I replaced the dark heart with a lighter halo ellipse with transparency.
This fifth CD was for the one year anniversary of our first date. It features round dance tunes, although not necessarily the versions we dance to. It includes All I Do Is Dream of You by Dean Martin, Orange Colored Sky by Nat King Cole, and A Nightingale Sang in Berkeley Square by Bobby Darin.
Around The World (1999)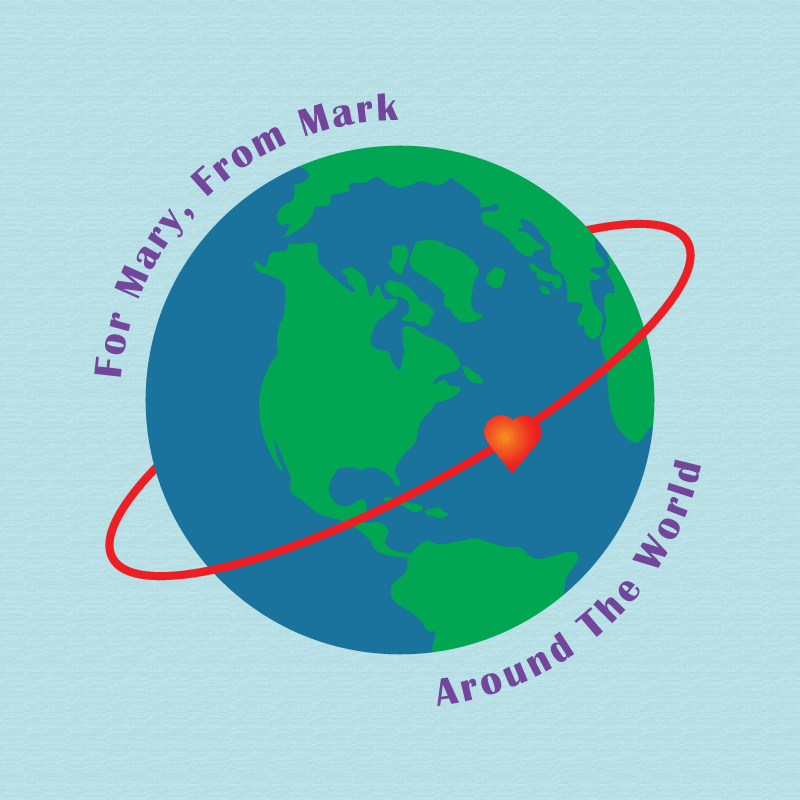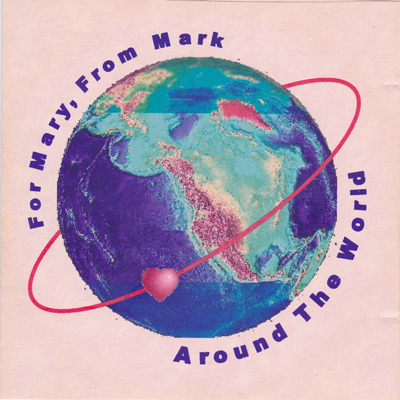 Like the previous cover, this one used canned clip art for the globe and heart. I made a new heart with a glowing gradient, and I reused a globe that I made several years ago for another project.
When Mary saw this redo, she requested that I change the background to a cooler color.
This CD celebrating the 18-month anniversary of our first date features some round dance tunes and some celtic tunes. The title track is a frenetic version by Steve Lawrence.
Celtic Capers (1999)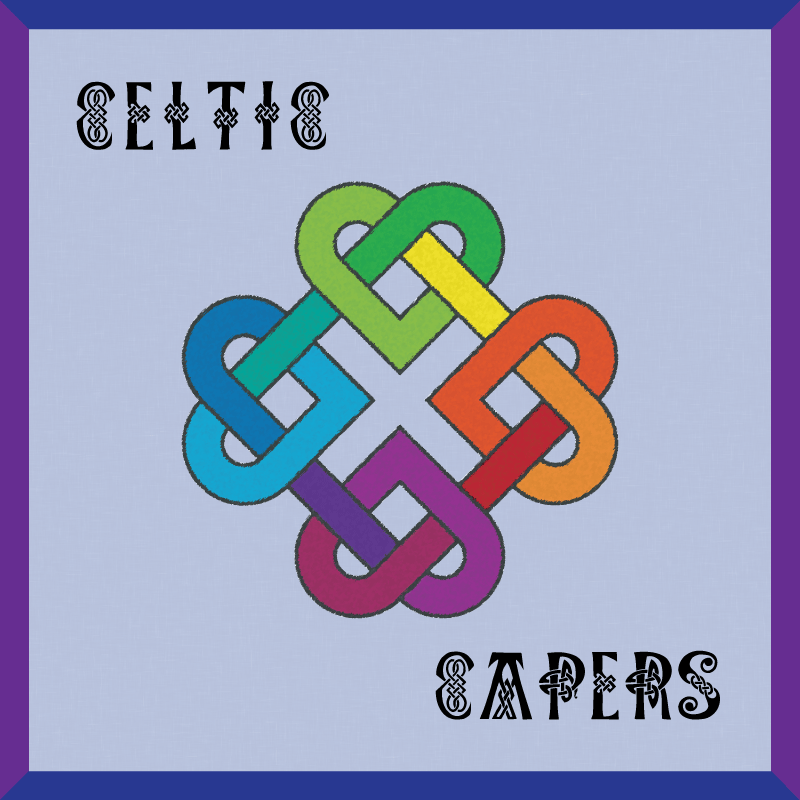 The original used a clip art celtic knot and a fuzzy old bit mapped font from which I extracted individual letters. For the reimagined knot, I drew it using shapes and the pathfinder tool, and colored it in muted rainbow colors without gradients. Then I applied some effects to roughen up the fill and stroke. I found a True Type version of the Celtic Knot font that renders in higher resolution.
We were searching for music to use at our wedding. Artists include Eileen Ivers, Phil Coulter, James Galway, and Silly Wizard. The CD title comes from Ciaran's Capers by Altan.
Celtic Frolics (1999)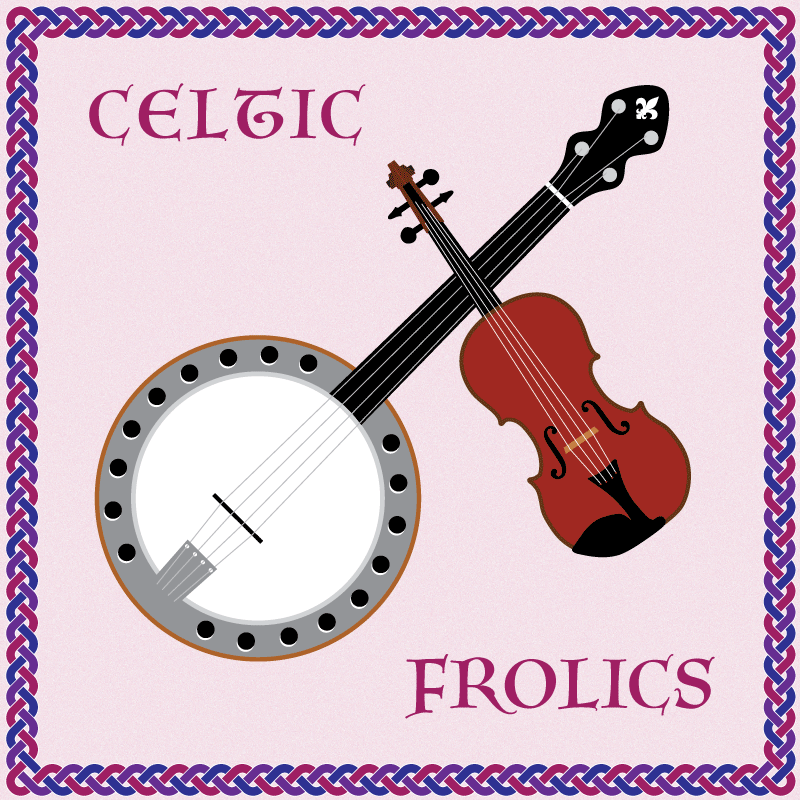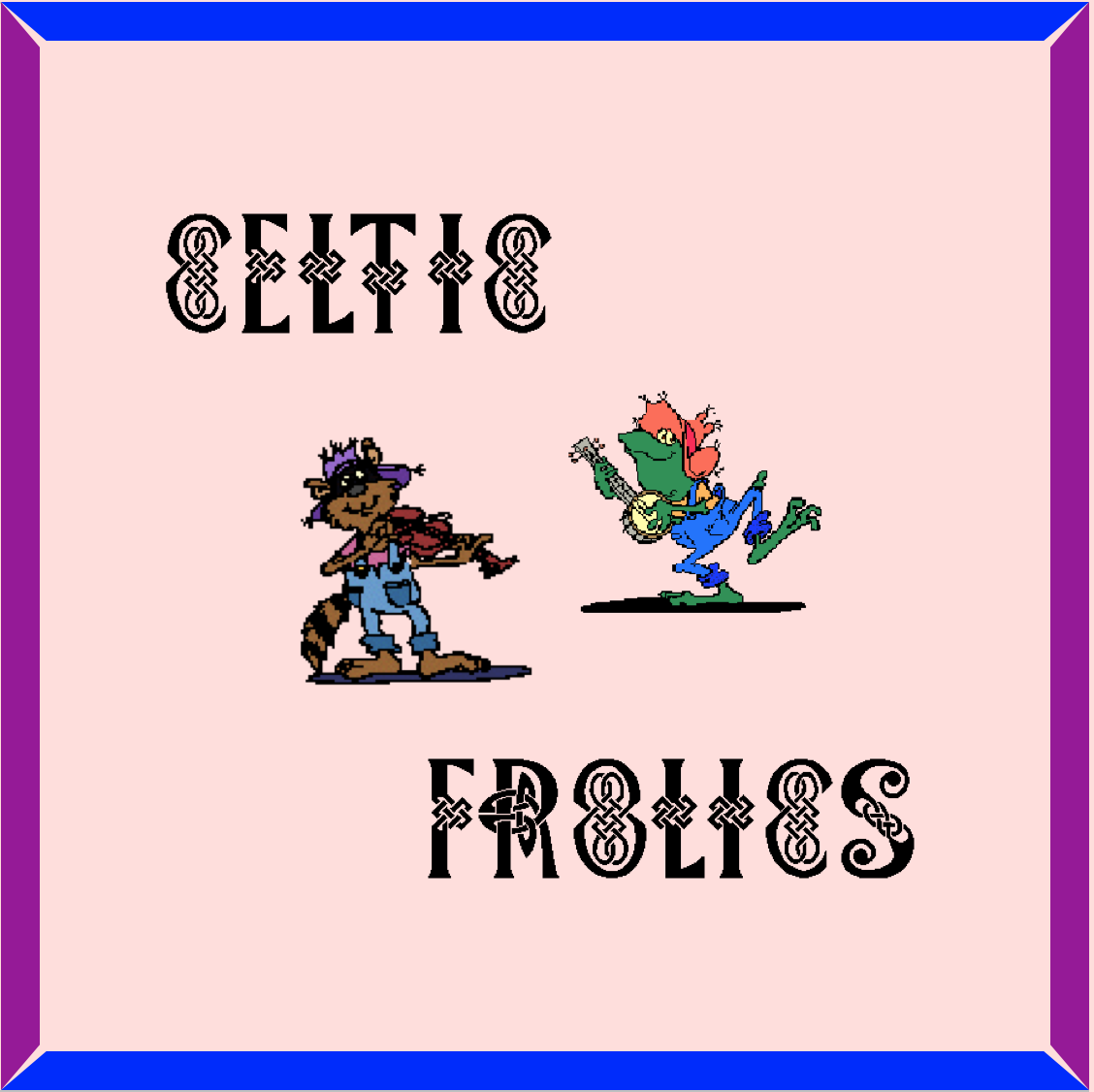 This cover is completely reimagined. I replaced the fuzzy bitmap cartoon characters with hand-drawn instruments. I found a different celtic font (Luminari) so the two albums need not use the same font. I replaced the blue and purple border with a celtic braid, which is one of the more intricate projects I've done recently; it uses the pathfinder tool extensively.
Features Orange Rogue by Laurie Riley & Bob McNally and I'll Tell Me Ma by Phil Coulter. The CD title comes from Pachelbel's Frolics by Eileen Ivers.
Come Out And Play (1999)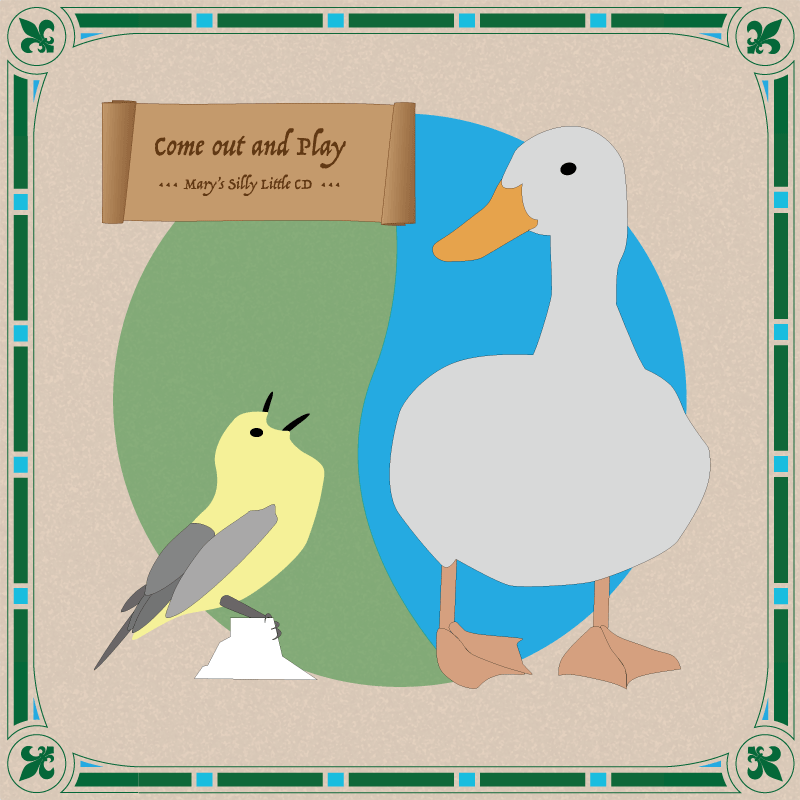 I completely reimagined this one. The original used (silly) multicolored text and some kind of low-resolution graphics. The new version uses animals and map symbols I made for another project.
This CD features goofy songs by artists such as Ray Stevens, The Captain & Tennille, The Ames Brothers, The Tokens, and the title tune by the Imperial Swing Orchestra.
Love Changes Everything (2002)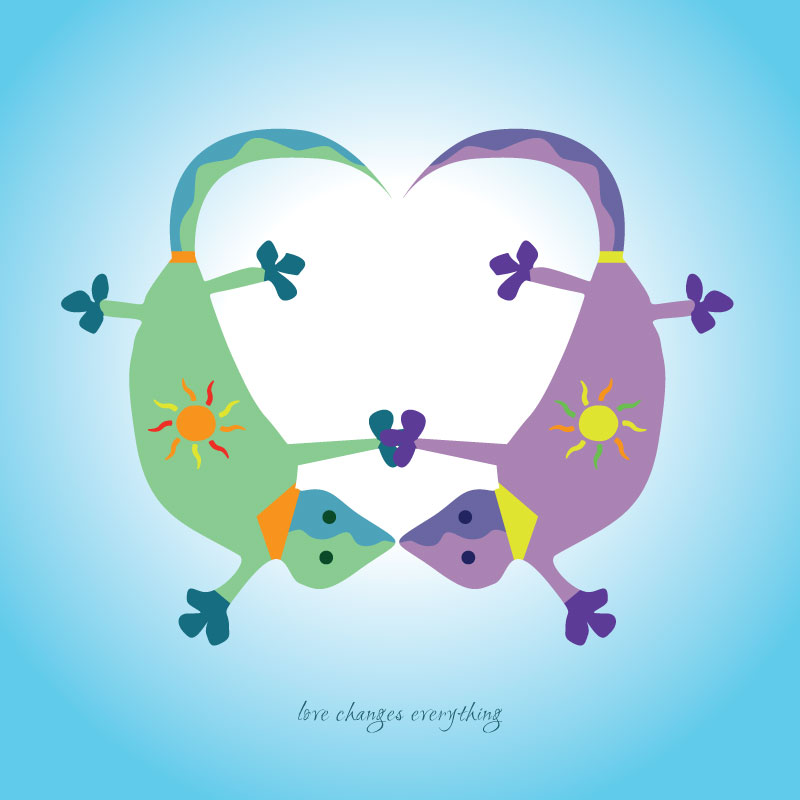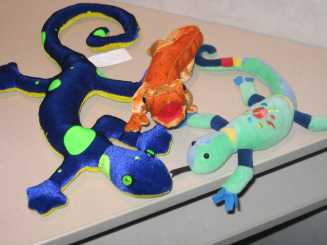 Again, I completely reimagined this one. The original used loopy hand drawn letters and crusty clip art graphics. The new version uses lizards that I originally drew for a Valentine's Day animation project.
This CD features round dance tunes by Elvis, Peggy Lee, Shania Twain, Gloria Estefan, Celine Dion, and many others.
The Choreography of a Coincidence (2002)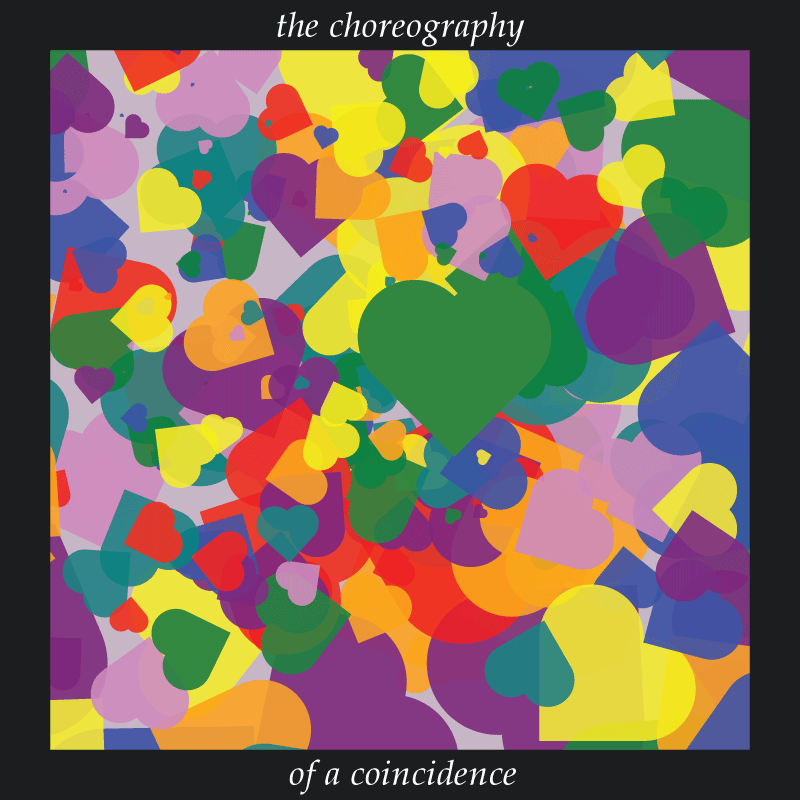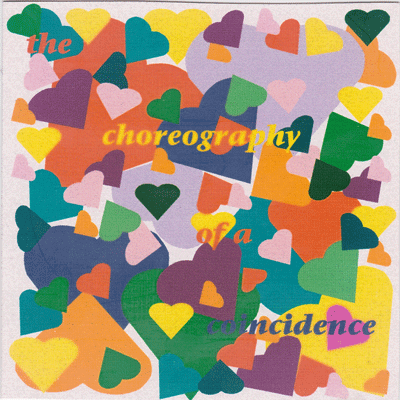 I wrote a program to draw the many hearts in SVG and exported them to Adobe Illustrator. I made many more hearts than the original, let them bleed over the edges, and added transparency.
I never really liked the title against the bright varied background, so I put the title in a frame. Mary chose the frame colors from several options I suggested.
This is the ninth CD in the series. The title of the CD comes from a line in the the song Big Mistake by David Wilcox. Also features Nicolette Larson, Bob Franke, and Madonna.
Better Than Any Old Radio (2005)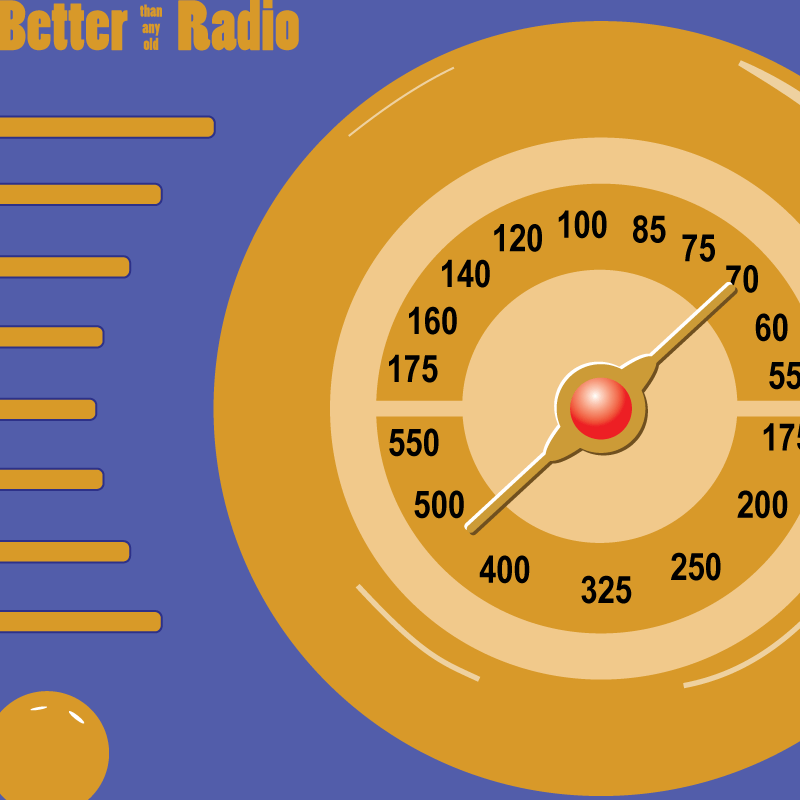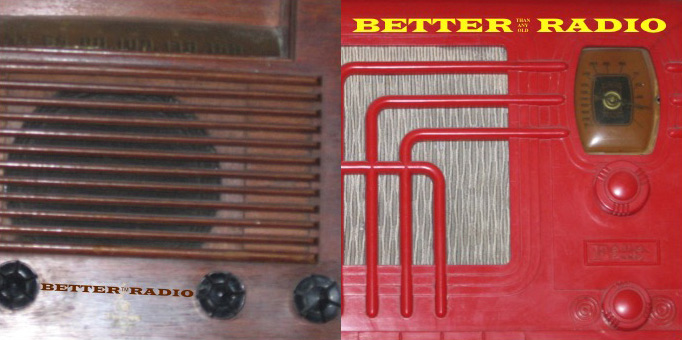 The original cover used photographs of some of my antique radios. The reimagined version uses a drawing I made for another project a few years ago.
This two-CD set features Christian music that is not worship; the premise is that this music is as good or better than anything you might hear on Top 40 radio. It features 2nd Chapter of Acts, John Fischer, Keith Green, Larry Norman, Lost Dogs, Randy Stonehill, Daniel Amos, Mark Heard, Pierce Pettis, Jacob's Trouble, Petra, and others.
Times and Seasons (2014)
I did this cover relatively recently in Photoshop, using a mosaic of different effects on an original photograph. I only changed the title color and gave it a more substantial shadow.
Mary's birthday CD includes some goofy sound effects and transitions between songs. Features Bourne & MacLeod, Trout Fishing in America, Brian Setzer, Kim Mclean, and others.